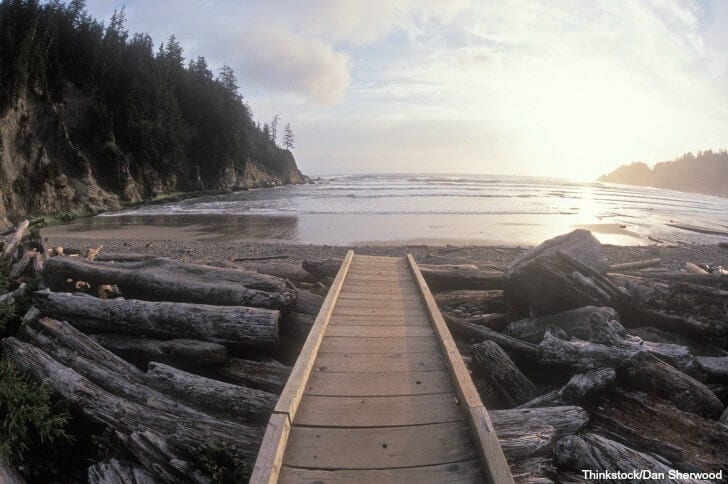 Named after Oswald West, the 14th Governor of Oregon who had a passion for preserving the state's public beaches, Oswald West State Park near Arch Cape, Oregon, is a nature lover's dream come true. This sprawling 2,448-acre park offers endless opportunities for outdoor recreation and is a popular destination for surfing, boogie boarding, hiking, and more. Featuring looming mountains, lush rainforests, and sandy beaches, the park showcases the unparalleled natural beauty of the Pacific Northwest and is a must-see on your next trip to the Oregon Coast.
Spend a Day at Oswald West State Park
Whether you're in the mood for a vigorous hike or just want to relax with your toes in the sand, Oswald West State Park has something for everyone – and it's just minutes away when you stay with Starfish Vacation Rentals! Here are some of the things you'll see the park.
Neahkahnie Mountain
Towering 1,600 feet above the beach, Neahkahnie Mountain is famous for its legendary stories about shipwrecks and buried treasure. Apart from its mysterious past, the mountain offers fantastic hiking opportunities, and trails like the 5-mile Neahkahnie Mountain Trail Loop are popular among adventurous visitors. A variety of blooming wildflowers surround the first section of the trail, and as it climbs higher through switchbacks, hikers will be rewarded with stunning coastal cliffs and incredible ocean views. Keep your eyes peeled for sea lions and the occasional whale swimming in the waters below! 
Cape Falcon
The Cape Falcon Trail is another popular spot for hiking excursions in Oswald West State Park. This 4.5-mile loop ventures through forests filled with spruce trees and travels on a scenic section of the Oregon Coast Trail, where you'll pass by flowing creeks, small waterfalls, and meadows full of sweet salal berries. Be sure to wear proper footwear, as the trail winds through dense rainforests and can be quite muddy.
Short Sand Beach/Smugglers Cove
Nicknamed "Shorty's" by area locals, the Short Sand Beach is one of the most popular surfing spots on the entire Oregon Coast. The beach is sheltered in the picturesque bay of Smugglers Cove, which is blanketed by forests and edged with volcanic rock and sandstone cliffs. If surfing isn't your thing, make your way across the railroad-style bridge where you can watch the wave action from a beautiful picnic area, or investigate the creatures in the tide pools at low tide. 
Come Home to Starfish Vacation Rentals!
If you're planning a trip to Oswald West State Park, be sure to book your stay in one of our beautiful Arch Cape vacation rentals! This spectacular area is serene and remote, and all of our homes have beautiful views and unique personalities. Featuring luxurious amenities like upscale furnishings, high-quality linens, and concierge-level assistance, we can help you get the most out of your vacation no matter where you stay. We can't wait to hear about your adventures!
For more information on area attractions, including Ecola State Park,
check out our blog about places to see on the Oregon Coast.
Photo Credit: Dan Sherwood | Thinkstock