Oregon Coast Events
Discover why the Oregon Coast is considered to be such a fantastic year-round destination. There are countless seasonal events and festivals that make this region an ideal place to visit, no matter the season. Discover some of the best Oregon Coast events below:
Annual Spring Unveiling Arts in Cannon Beach: Each year, members of the Cannon Beach Gallery Group showcase their new works. This event is a must for art-lovers. With demonstrations, receptions, special dinners, and more, there are so many ways to see and support local artists and galleries.
Cannon Beach Fat Bike Festival: The Fat Bike Festival in Cannon Beach is an event not to be missed for those who love both riding bikes, and drinking quality craft beer. The three-day event includes a poker ride, night ride, and a full moon beach party featuring s'mores, chowder, and good company.
Summer Events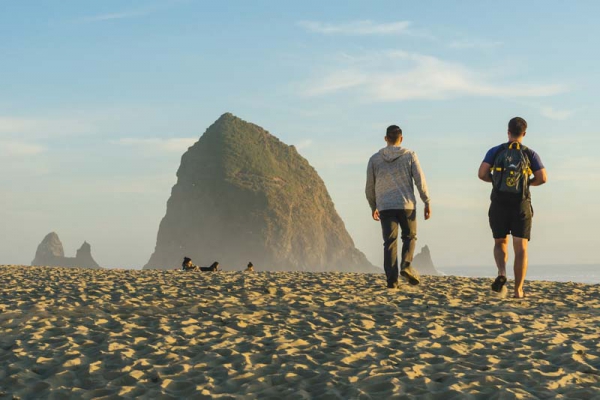 Muttzanita:  Manzanita is fondly known as one of the pet-friendliest towns on the Oregon Coast. This end-of-summer event welcomes dogs and cats of all shapes and sizes to the cozy coastal village! From contests, to vendors selling delicious doggie treats, Muttzanita has everything you need for a fantastic day with your four-legged friend. If you're feeling creative, consider creating a costume for your pup and entering the pet parade! Every year, one special pet is dubbed the "Mayor of Muttzanita", be sure to get your pet in the running for this prestigious honor. If you're interested in attending this event, take a look at our pet-friendly properties.
Cannon Beach Sandcastle Contest: For over 50 years, Cannon Beach has been hosting their annual contest to see who can create the best sandcastle. The creations are absolute pieces of art to behold. Amateurs and professionals alike come to compete in this day-long event, but it is also amazing to simply be a spectator. The following day, everyone participates in a 5k fun run and walk. This contest is one of 11 events recognized as an Oregon Heritage Tradition. Our Cannon Beach properties sell out quickly for this event, so book early!
Earth & Ocean Arts Festival: September welcomes the annual Earth & Ocean Arts Festival, formerly known as the Plein Air Festival, in Cannon Beach. This particular event celebrates plein air artists, but that's not the only type of art you'll find. There are also plenty of sculptors, basket weavers, metal workers, and more. The weekend also features workshops, live music, and kid-friendly activities.
4th of July on the Oregon Coast:  Up and down the coast, the 4th of July is one of the most exciting times throughout the summer months. Parades, cookouts, fireworks and fun all bringing people together to celebrate our country. Rockaway Beach and Seaside both put on an amazing fireworks show. But, if you find just the right lookout point, for instance by staying in Blue Horizon, you can see all kinds of fireworks up and down the coastline for miles.
Stormy Weather Arts Festival: Another great art festival in Cannon Beach, the Stormy Weather Arts Festival welcomes creators of all kinds. You'll find everything from poets to sculptors featured in this excellent Cannon Beach event.
The Cannon Beach Cottage and Garden Tour: Have you ever wanted to explore the unique historic homes and cottages in Cannon Beach? If so, the annual Cannon Beach Cottage and Garden Tour is the perfect excuse to do just that. This event is a great way to experience Cannon Beach's most charming homes, while also enjoying gardening lectures, live music, and other special events.
Winter Events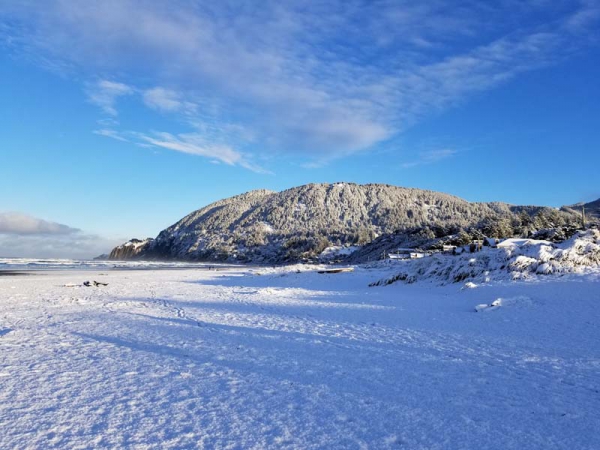 Haystack Holidays: Get in the holiday spirit with this series of winter-themed events at Haystack Holidays in Cannon Beach! From live performances to crafting lessons, there are so many ways to celebrate. One of the highlights is the Holiday Foods Around the World event, during which restaurants from around the area feature dishes that showcase different cultures from all over the globe!
Savor Cannon Beach Festival: Early March brings a four-day festival that combines wine, food, and the arts! The Savor Festival showcases amazing local restaurants and area wineries, as well as some of the nearby galleries and artists. Watch as local winemakers and chef compete in the Battle of the Blends, Battle of the Bites, and the Thursday Night Showdown. The Beach Wine Walk is another excellent event, encouraging visitors to walk around downtown Cannon Beach. 40 wineries pour samples of their varietals at local art galleries, restaurants, and shops. It's a great way to get to know our town!
New Year's Day Polar Bear Plunge:  Brave the chilly January air and plunge into the Pacific the next time you spend New Year's Day on the Oregon Coast. Both Manzanita and Arch Cape host this annual tradition as a fun, and delightfully chilly, way to kick off the start of a new year.