Things are a little different when it comes to socializing, thanks to Covid! Live music has been put on hold, local events and gatherings are limited and dining out on vacation has a whole new set of rules. But … if your Oregon Coast vacation itinerary includes a night out on the town, it's not all doom and gloom. While our quaint coastal villages shut down early compared to city life, there are plenty of fun places to gather with friends, meet the locals, enjoy a sundowner, experience the laid-back nightlife, and even bar-hop on the Oregon Coast!
Set the tone for the evening with a gathering at a local brewpub for an ice cold micro-brew or frozen cocktail, Public Coast, Pelican Brewing and Bill's Tavern are all in Cannon Beach and open till 8pm, 9pm and 10pm respectively. Then, treat yourself to an alfresco sunset dinner on an outdoor patio and do a little bar-hopping 'til last call.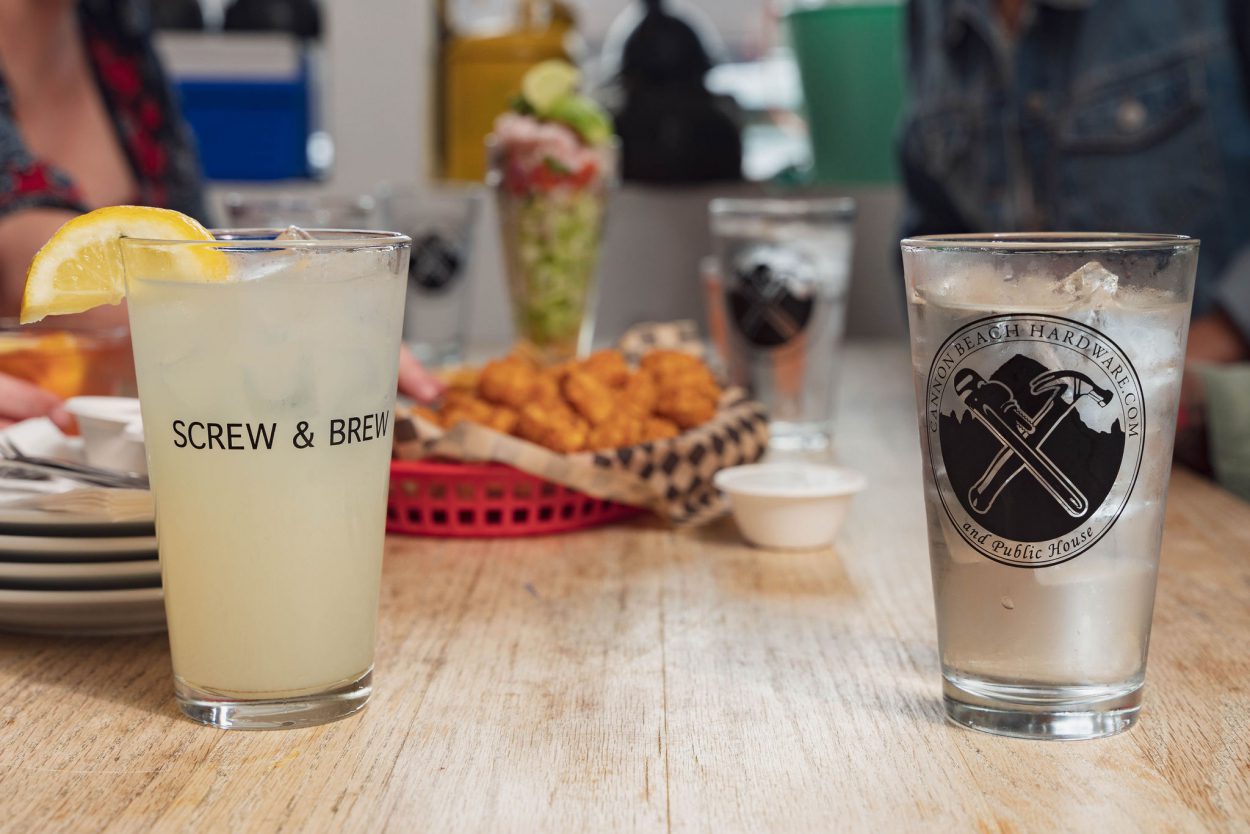 The options aren't endless, but you'll find good food, great hospitality, world-class brews, wines and liquors and (hopefully very soon) live music. As always, Starfish Vacation Rentals has the inside scoop on the best places to enjoy the laid-back nightlife on the Oregon Coast.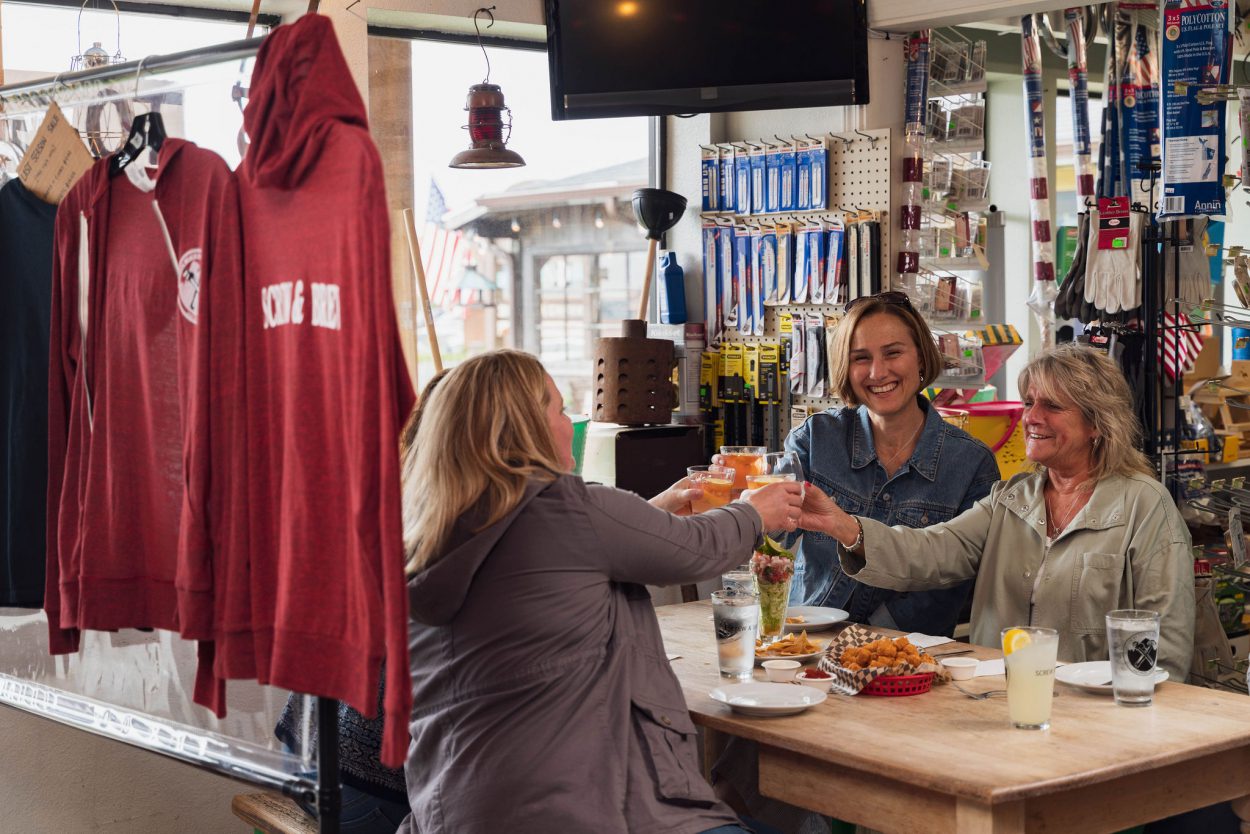 Cannon Beach Hardware and Public House
1235 S. Hemlock Street, Cannon Beach
Phone: (503) 436-4086
Restaurant Hours: 11:00am-10:00pm Closed on Wednesdays
Affectionately called The Screw and Brew by the locals, the front part of the town's hardware store doubles as a great place to gather with friends and relax over a pint of beer. There are several TV screens too so you can cheer for your favorite sports team.
Starfish Recommends: Definitely order the Cajun style tater tots!
The Manzanita Lighthouse
36480 US-101, Nehalem
Phone: (503) 368-4990
Hours: Tuesday-Saturday – 12pm-12am
Note: Over 21, sorry no children. 
Fondly known as "Nehalem's Living Room", the Manzanita Lighthouse is where the locals hang out! This is not your typical bar grub, the menu boasts award-wining Hereford rib-eye (seasonal), Ahi Tuna and hand-tossed pizzas (or tasty calzones) and a full-service bar menu with 20 beers on tap (fill growlers here!). Check their Specials board and you might find amazing salmon fish & chips. pork belly street tacos or Ahi tuna poke. While they are 21+, if you're on vacation with family they have a walk-up/to-go window and Rex Champ ball field right next door to exercise the kids while you wait. Manzanita Lighthouse have taken it one step further during the covid pandemic providing food to the local community through the Tillamook Food Bank. 
Starfish Recommends: Taco Tuesday is always a hit, the home-made hand-tossed pizzas, fresh beef burgers made to order (not frozen beef like most other places), lamb/beef gyros and fettuccine alfredo with meat/veggie options are our Starfish team recommendations.
The San Dune Pub
127 Laneda Avenue, Manzanita
Phone: (503) 368-5080
Hours: Friday- Monday – 4pm-9pm
Note: Entry is currently through the back patio off of Carmel Avenue (right by our office!). Over 21, sorry no children. 
The San Dune Pub is a legendary Oregon Coast hangout in the heart of Manzanita Village, voted one of the best Oregon bars outside of Portland and one of the best live music venues on the Oregon Coast. While the live music is currently on hold (thanks again, Covid!), the San Dune Pub is open for outdoor dining on the cozy back patio, take-out, beer and growlers to go! We're hoping things return to "normal" soon as the San Dune Pub is a great Manzanita location to catch a sports game on the big screen TVs, play poker and dance the night away to the best local bands in Oregon.
Starfish Recommends: Our Starfish team loves the BBQ Babyback Ribs special every Tuesday night!
MacGregor's Whiskey Bar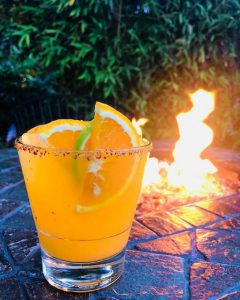 Manzanita: 387 Laneda Ave, #D, Manzanita
Phone: (503) 368-2447
Hours: Open 4pm, Closed Monday & Tuesday
Cannon Beach: 100 E 2nd Street, Cannon Beach
Phone: (503) 436-0322
Hours: Open 4pm Tuesday-Friday, 2pm Saturday-Sunday, Closed Monday
MacGregor's has two unique Oregon Coast locations in the village of Manzanita and in the heart of Cannon Beach. You don't need to be a whiskey aficionado to enjoy either of these Oregon Coast hotspots, but if you are, you're in for a treat. Experienced mixologists prepare hand-crafted cocktails, the finest spirit flights, a wide selection of beer and wine and over 200 brown liquors from around the world, complemented by an enticing menu and amazing charcuterie boards. The Manzanita location has indoor seating and a small outdoor patio. MacGregor's Cannon Beach is larger with interior dining, a full dinner menu and, hopefully soon, the famed old-school trivia nights and live music.
Starfish Recommends: Yes, the charcuterie boards are amazing! Be sure to save room for a slice of the Rich, Flourless Chocolate Cake and a glass of the Warres Ruby Port for dessert.
The Driftwood
179 N Hemlock St, Cannon Beach
Phone: (503) 436-2439
Restaurant Hours: 11:30am-11:00pm Monday-Sunday
Bar Hours: 11:30am-12:00am Monday-Sunday
If you're travelling to the Oregon Coast with kids (or pets!) look no further than the Driftwood, a local gathering place, landmark and Cannon Beach constant for over 75 years. The outdoor patio is kid-friendly and pet-friendly with a cozy firepit and plenty of outdoor seating to gather with friends, reconnect, people watch on Main Street and enjoy a fun evening of good food, dynamic cocktails and local brews. Reservations are required in advance for indoor dining.
Starfish Recommends: The Salmon Caesar salad is an excellent choice along with a glass of Oregon pinot!
Littoral Bar
2010 Highway 101 N, Rockaway Beach
Phone: (503) 457-3439
Hours: Open 4-10pm Tuesday-Thursday, 4-11pm Friday-Saturday, Closed Sunday & Monday,
No reservations
Note: Minors allowed until 8pm in the company of an adult, kitchen closes 9pm
Don't let it's unassuming outside fool you….this is THE not-to-miss place in Rockaway.  The Littoral Bar is located in the old Karla's Smokehouse Building and although it doesn't look like much from the outside (in fact, you might drive right by it not even realizing it's there if you aren't looking for it) it's a cool local hangout. You can get growlers filled here with local beer and for now (at least until the OLCC changes its mind) cocktails to go if you want! Littoral means where the land meets the sea – even the name is cool!
Starfish Recommends: The craft cocktails are all so amazing – it's hard to decide which one to order! And if you go before 9pm, definitely order one of the gourmet paninis or charcuterie board with local products.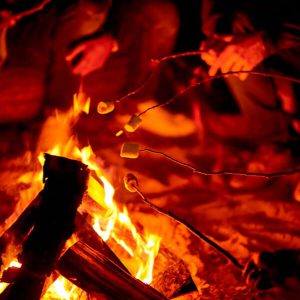 Whether you're on a romantic getaway or annual family vacation, one of our favorite Starfish team recommendations for the best night out on the Oregon Coast is a traditional beach bonfire, it's a must!  Set out on a sunset stroll, build a (safe) beach bonfire and sip on a bottle of red under a blanket of stars (with our special Smores package for the kids of course!). The best nightlife venue on the Oregon Coast with easy social distancing, exceptional stargazing, tranquil moonlit views and the possible glorious glow of phytoplankton.
Remember to drink responsibly and please don't drink and drive! Starfish Vacation Rentals have the best selection of Oregon Coast vacation rentals from Cannon Beach down to Rockaway Bay, many within walking distance from our favorite local hangouts. Join our newsletter to stay up to date with local events and travel updates or search our selection of luxury homes and condos and book your Oregon Coast vacation with Starfish Luxury Rentals today.