Dining out on the Oregon Coast looks a little different this year. Some of our favorite restaurants have sadly closed down for good, others remain open for take-out and curbside pick up only and many are struggling to open with a severe labor shortage on the coast. Staying in a vacation rental gives you the freedom of choice to eat out or enjoy the luxury of sunrise coffees, gourmet meals, family gatherings, alfresco patio dining and smores around the outdoor fire pit, all from the comfort of home. 
We're all spending a little more time at home and enjoying quality moments with family and friends. There's no need for this to change on vacation!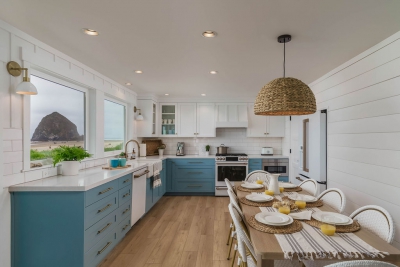 One of the biggest perks of renting a Starfish Luxury Rental … our exceptionally well-stocked, fully-fitted kitchens, outdoor dining patios and BBQ grills! 
If you're flying to your vacation destination, Starfish Vacation Rentals' signature grocery delivery service is perfect. If you're driving, you may want to consider packing your favorite items from home, making sure you have the family essentials that may not be available in the local stores and markets, then pick up the rest of your supplies closer to your destination.
Or, perhaps this is the first vacation you've taken since Covid shut us down and grocery shopping is the last thing on your mind for your post-covid vacation. Well, no worries there either! Don't waste precious vacation time dragging the family around unfamiliar grocery stores. Just send us your list ahead of time, sit back and relax. Our team will have your groceries delivered and unpacked, with a pantry and fridge fully-stocked with your essentials and favorites prior to arrival. 
There are plenty of options to consider when planning your groceries for your Oregon Coast vacation and a little thought and pre-planning goes a long way. Whether you're travelling from the north or south, love to explore new grocery stores , or prefer to leave it all up to us – we've taken the hassle out of grocery shopping with the scoop on the best places for grocery shopping on the Oregon Coast. 
WARRENTON
If you're travelling south from Washington and would prefer a bulk shop rather than shopping at the local Oregon Coast markets, make a stop in Warrenton to stock up. You'll find a Fred Meyer on the right just across the New Youngs Bay Bridge (you can even order ahead for curbside pickup) and a Costco and Walmart Supercenter a little further south on the left side of US-101. 
CANNON BEACH
The charm of Cannon Beach is that in place of the familiar touristy franchise stores, you'll find locally owned stores and markets with friendly faces. If you prefer to make grocery shopping part of your vacation experience and explore the local markets and stores, you're spoilt for choice in the quaint coastal villages along the Oregon Coast! Sample the flavors of local produce, artisan food, craft brews and award-winning Oregon wines and shop like a local for a unique Oregon experience.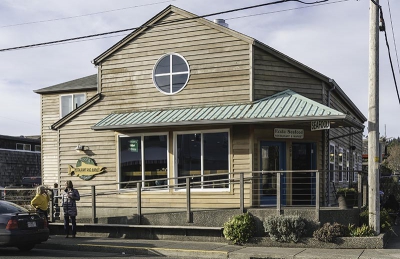 Ecola Seafoods
208 N Spruce St, Cannon Beach, OR
Phone: (503) 436-9130
For fresh seafood, definitely stop at Ecola Seafoods in Cannon Beach. The Beckman Family has been providing quality, freshly caught "Wild" seafood, world-famous smoked salmon jerky and their specialty homemade clam chowder to the area since 1993! Place your order online, dine-in or take away – it's amazingly fresh seafood and a true coastal experience.  
Wine Shack
124 N Hemlock St, Cannon Beach, OR
Phone: (503) 436-1100
The Wine Shack is an award winning local favorite in downtown Cannon Beach! Voted the "Best Wine Shop on the Oregon Coast", the store offers a wide variety of local and international wines, along with their own line of award-winning Puffin wines. Stop by for a tasting and to purchase Oregon's finest local wines. 
Cannon Beach Farmers Market
163 E Gower Ave, Cannon Beach, OR
Phone: (503) 436-8044
We're excited to announce that our farmers markets are open this summer! If you're on a mid-week vacation in Cannon Beach, be sure to stop by the Cannon Beach Farmers Market on Tuesday afternoons from 1 to 5pm for a coastal market shopping experience. You'll find everything from fresh meats, cheeses and produce to handmade confections, specialty all-natural spirits and live music! 
Surfcrest Market
3140 S. Hemlock St., Tolovana Park, OR
Phone: (503) 436-1189
Surfcrest Market is a convenience market, pizzeria and post office all in one. The "grab & go" style market has local and important wines and beers, food basics, beach toys, gear rentals and Cannon Beach souvenirs. If pizza is on the menu, Surfcrest Market is a must! Their locally acclaimed pizzas are available for dine in, takeaway and delivery to your vacation home.
Fresh Foods
3401 S Hemlock St., Tolovana Park, OR
Phone: (503) 368-5250
Fresh Foods is a family owned, full-service grocery store located at the south end of town. The store is well stocked with all the basics, organic produce, gourmet food, meals-to-go, locally produced products and an impressive selection of beer and wine. Fresh Foods boasts a coffee bar (Insider's Tip – if the lines at the nearby coffee shop are too long, grab your cup of java here instead), bakery, deli, and curbside pickup or delivery Monday through Friday. Their services and selection will leave a huge impression!
MANZANITA
Spending your vacation in Manzanita? There are lots of fun choices for grocery shopping in Manzanita with cute coastal stores and the awesome Manzanita Farmers Market at the Underhill Plaza every Friday night.
Fresh Foods
730 Manzanita Ave, Manzanita, OR
Phone: (503) 368-5250
There is also a Fresh Foods in Manzanita right off Highway 101 as you come into town. If you're searching for more than beer and wine, Fresh Foods has the only liquor store in Manzanita.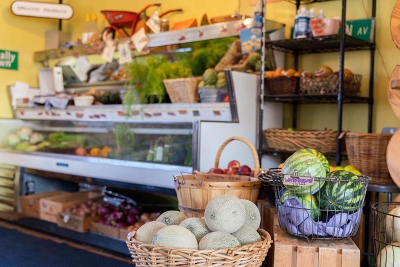 Wild Grocery & Café
298 Laneda Ave, Manzanita, OR
Phone: (503) 368-5316
Head towards the coast on Laneda Avenue and the first stop is Wild, a natural food grocery (think Whole Foods mini-me!) with amazing local products, lots of gluten free and vegan options in their fresh case for special dietary needs, and a full wall of apothecary style organic herbs and seasonings at a great price. For tasty treats you can dine-in at the Café or pick a quick grab-and-go for the road. 
The Little Apple
193 Laneda Avenue, Manzanita, OR
Phone: (503) 368-5362
Only 3 blocks from the beach is the Manzanita Grocery & Deli, better known as The Little Apple (that's what Manzanita means in Spanish!). The Little Apple is ideal for a deli-stop on the way to the beach or to pick up fresh organic produce, seafood or meat, a case of craft beer and a bottle of Willamette Valley wine for an alfresco BBQ at home after a fun day of adventures on the Oregon Coast. 
TILLAMOOK
If you're travelling through Tillamook from the south, there is a Fred Meyer just off US-101 as your last opportunity to bulk shop and a little further north. 
The Garibaldi Bay Market is a great neighborhood store with fresh local produce, an enticing selection of local craft beer and wine and the freshest seafood in Oregon! If you want fresh fish to cook or BBQ in the comfort of your vacation home, stop by the Garibaldi Market, you may even be lucky enough to buy straight from the boats and have the fishmongers at the Garibaldi Cannery process it for you! 
Save your BBQ shopping for last! The Tillamook Meat Market in Rockaway is the best stop for your fresh fillets and juicy burger patties for the BBQ.
Find your luxury Oregon Coast home away from home with Starfish Vacation Rentals. If grocery shopping, preparing meals and cooking sounds like too much work altogether, our concierge team will even arrange for a private chef to prepare an in-home dining experience for you.