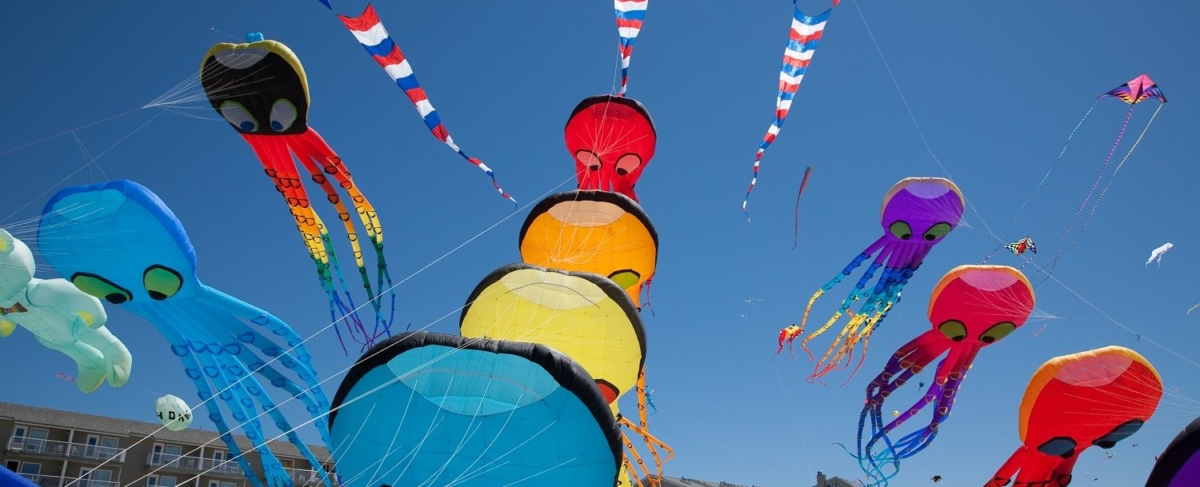 Enjoy some high-flying fun at the Rockaway Beach Kite Festival! This anticipated annual event has been running for over 40 years and celebrates the creativity and ingenuity of American kitefliers. Even if you're not a seasoned kiteflier, you'll love the bright colors and friendly atmosphere at this Oregon Coast kite festival. Find out everything you need to know about this great event, as well as how you can get a home with Starfish Vacation Rental that includes a kite available for you to use!
Attend the Oregon Coast Kite Festival in Rockaway Beach
Kite-flying is a beloved tradition along the Pacific Coast. In fact, there are multiple kite festivals in Oregon and Washington State! Without a doubt, our favorite is the Rockaway Beach Kite Festival. The 2018 festival will be the 41st year of the event and will be held August 17-19, 2018 at the Rockaway Beach Wayside.
The festival is sponsored by the American Kitefliers Association, which is the largest group of kiters in the world. The festival welcomes professional and amateur kite fliers of all ages. While there are prizes awarded every year, the festival likes to emphasize that the atmosphere is friendly and not competitive. Prizes can be awarded for everything from the nicest kite to which kite drags along the sand. This event is very kid-friendly, with kite-building and kite-flying lessons that will inspire the next generation of kiters!
Aside from the gorgeous displays of kites, you'll also get to enjoy live music, delicious foods, and the goods from the local vendors.
Enjoy Your Visit to Rockaway Beach
There are some fantastic things to do in Rockaway Beach. There is a great array of fun and funky shops in town that are so great to browse. You can also find just about every type of food available in town, from fresh seafood to some hearty barbecue. Of course, the most popular thing to do in Rockaway Beach is to just relax.
Stay with Starfish Vacation Rentals
If you're in town for the Oregon Coast kite festival, be sure to stay in a stunning home from Starfish Vacation Rentals. We have an incredible selection of properties in Rockaway Beach. All of our townhomes give you a front-row view of the kites and are just minutes from Rockaways shops and restaurants.
Consider renting 148 Seascape, a stunning two-bedroom home that boasts a three-story design with an open floor plan, vaulted ceilings, and dramatic ocean views. 148 Seascape combines the comforts of a home with the amenities of a chic boutique hotel and includes beach chairs, sand toys, and towels for your use.
Check out our full catalog of homes and book today! We look forward to having you.