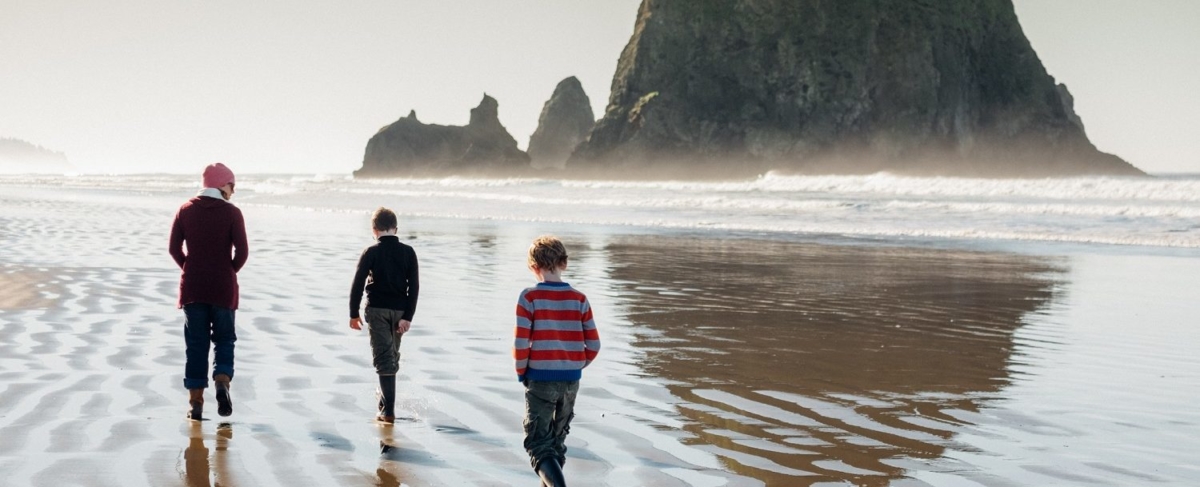 The best memories are made during vacations with your family! There's just something about being surrounded by the smell of salty air and the sound of waves crashing. With over 363 miles of public shoreline, the Oregon Coast is the perfect place to enjoy a wonderful getaway with the ones you love most. However, it may seem a bit intimidating narrowing down just where to stay. Here's a quick guide to the best Oregon Coast beaches for families.
Get the Inside Scoop on the Best Oregon Coast Beaches for Families
Cannon Beach
This popular destination attracts upwards of 750,000 visitors each year, and it's no wonder! With four miles of sand, great art galleries, state parks, restaurants, and iconic landmarks like Haystack Rock, Cannon Beach is the perfect place for families who want to keep busy on vacation. Plus, with many other notable beaches nearby, you won't have to worry about battling crowds during your visit.
Hug Point
Located five miles south of Cannon Beach, Hug Point State Park offers scenic waterfalls, caves, cliffs, and a great stagecoach trail. Hug Point is perfect for the outdoorsy family who wants to explore the beautiful Oregon Coast scenery.
Arch Cape
Arch Cape is a peaceful residential area that provides a serene retreat from the busier beaches. It's perfect for the family that wants to enjoy a restful and relaxing vacation. Arch Cape is also a popular spot for whale watching on the Oregon Coast. Unfortunately, there isn't too much in the way of public parking in this area. Fortunately, our Arch Cape rental properties all offer front row access to the shoreline!
Arcadia Beach
Arcadia Beach is just one mile south of Cannon Beach and offers shady groves that are perfect for a picnic lunch or a quiet stroll. Take a look at the tide pools on the beach and see if you can spot the various creatures that call this area home. Be careful when exploring, though! The inhabitants of these pools are fragile.
Silver Point
This treasured spot is a favorite of many locals. It's named for the area's weathered spruce trees and is frequented by surfers. This shoreline is dotted with strangely-shaped cliffs, deep caves, and rocky nubs. Be sure to bring your camera as there are plenty of great opportunities for a memorable snap!
Rockaway Beach
Rockaway Beach is another popular spot for both visitors and locals. It offers seven miles of sand, twin sea stacks, and the most gorgeous sunsets you'll ever see! The town offers plenty of great places to purchase a souvenir, as well as restaurants, fishing lakes and ponds, and hiking trails.
Book Your Stay with Starfish Luxury Rentals
Are you ready to experience the best Oregon Coast beaches for families? If you are, then book a home with Starfish Luxury Rentals to start planning the ultimate trip. We offer properties in Cannon Beach, Arch Cape, Manzanita, and Rockaway Beach. No matter your preference, you'll find a beautiful property to enjoy.
Take a look at our full catalog of rentals and book today! We look forward to having you.
Are you looking for more great articles about the Oregon Coast? Check out our blog! Read about the best beaches in Oregon for kids or the best North Oregon Coast activities for children.