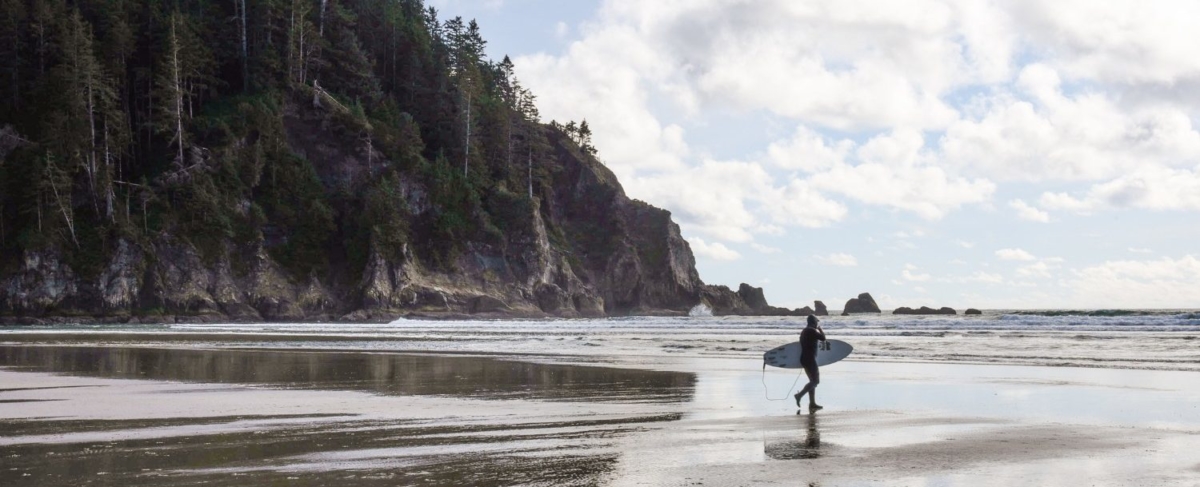 It may surprise first-time visitors that the Oregon Coast is one of the most popular surfing destinations in the country! The coves, headlands, and curved beaches scattered along the coast create great opportunities for surfers of all levels. Discover some of our favorite spots for Oregon Coast surfing and where you can find gorgeous accommodations nearby!
Where to Find the Best Oregon Coast Surfing
For Beginners
The beaches along the north coast allow surfers to learn on some of the safest and best waves around, especially during the mild summer months. Oswald West State Park, sometimes called Short Sands Beach, is protected from strong winds by picturesque rocky headlands and is a great spot for beginners. This beach can be accessed by a beautiful paved trail through the forest, which will give you a feeling of adventure on your way to the water.
Another great location for those just starting out is Indian Beach in Ecola State Park, which is just north of Cannon Beach. This beach is also sheltered from the prevailing wind. This cove often has more kayakers than surfers, but the clean-breaking waves make it an ideal destination for learning.
For Intermediate and Advanced Surfers
If you have more experience under your belt, surfing the Oregon Coast in the winter is a thrillseekers delight. The Pacific's frequent winter storms create larger, more powerful waves that make for heart-pumping rips (or dangerous wipe-outs, if you don't know what you're doing). For those looking to catch a wave, Roads End Beach in Lincoln City requires more paddling than the other areas but is less dangerous and a great spot for intermediate surfers. Or, if getting in the water isn't your thing, Lincoln City is also home to an annual professional surfing contest called the Nelscott Reef Big Wave Classic, so you can watch brave souls tear up the waves from land.
Another excellent surfing spot is Seaside Cove. This area is popular with longboarders but offers great waves during low tides. Locals and more advanced surfers can be seen taking on "Second Point", which offers spectacular swells and juicy rides. Watch the locals, and you'll see what years of riding world-class waves will do for your surfing!
Hang Ten with Starfish Vacation Rentals!
Stay close to these Oregon Coast surfing spots when you book your stay with Starfish Vacation Rentals. We have a fantastic selection of oceanfront properties. Consider booking Surf View for your surf vacation! This mid-century, four-bedroom, three-bathroom home is located in Arch Cape and offers gorgeous views and a quiet location. It's the perfect place to vacation, whether you're on a trip with family or friends. Where else can you see whales, seals, and sea lions from your window?
Check our full inventory of rental homes and book today. We look forward to having you.