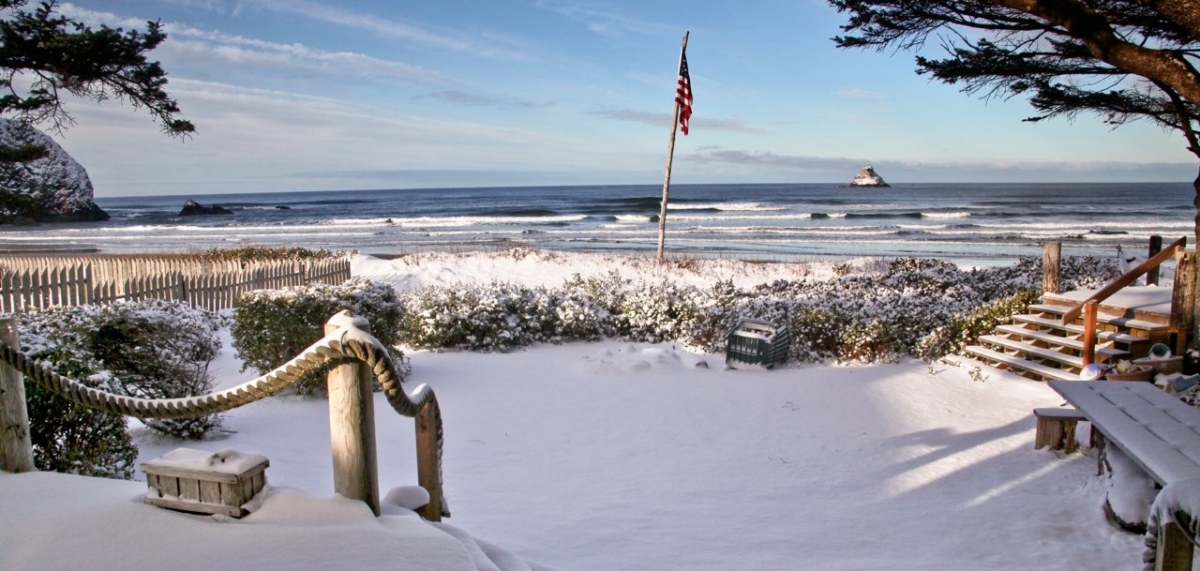 Wintertime at the Oregon Coast is called the "Secret Season" and for good reason. Although the weather is more predictable in the summer, there is something to be said for the mystery and unique experiences that the Oregon Coast offers this time of year. You'll also get to enjoy the beaches, hiking trails, bays, restaurants, and boutiques without the crowds that visit during spring, summer and fall. Not to mention the opportunity to capitalize on winter savings. So, start your new year off the right way with a trip to the beach! Check out our guide below for some travel inspiration for New Year's Eve on the Oregon Coast.
Your Guide to the Best New Year's Eve on the Oregon Coast
What's Your Favorite Way to Celebrate New Year's Eve?
If your perfect NYE involves surrounding yourself with fellow revelers, you may want to head to one of the friendly local establishments. Raise your glass as the clock strikes midnight at the San Dune Pub in Manzanita or at The Driftwood if you're staying near Cannon Beach. Both have big screen TVs so you can keep an eye on the countdowns around the world too. On the other hand, if a quiet night in is more your speed, start a New Year's Eve tradition in one of our oceanfront and ocean view beach houses with luxe interiors and stocked full of amenities. You simply cannot go wrong ringing in the new year, in a hot tub, with your favorite libation in hand.  Prepare a gourmet meal for two and enjoy a bottle of wine by a crackling fire, or play board games and laugh until the wee hours with friends and family. Take a look at our guest services if you'd like to enhance your stay further. We can arrange for such luxuries as a private meal prepared in your rental, or an on-site massage.
New Year's Day Polar Bear Plunge
Taking part in a polar plunge is not for the faint of heart, but does come with bragging rights! No matter how cold the water is, die-hards head out on New Year's Day each year for the traditional run into the frigid waters of the Pacific and promptly run back out to dry land. There is a Polar Bear Plunge on Neahkahnie Beach in Manzanita at 11:00 a.m. and another one at the south end of Arch Cape. Afterwards, enjoy chatting with the locals and warming your tushy around a warm fire. Be sure to follow us on Facebook to get up-to-date information about these and other New Year's Eve events in the area!
Nehalem Bay First Day Hike
Start the first day of the new year off right with a hike through Nehalem Bay State Park. This nation-wide tradition has come to the Oregon Coast. Enjoy a brisk walk as well as waived parking fees for the day! Between the fresh air, wildlife, and the incredible views of Nehalem Bay, this outing is sure to challenge and inspire you all at the same time. Take the two-mile guided hike on a paved trail along the Nehalem Bay Loop Bike Path. It's a wonderful activity for all ages. Be sure to check the weather before heading out, so you're dressed appropriately. Don't forget your camera, as well as water and snacks.
Activities
Whale Watching

: Although whales can be spotted throughout the year, late December and early January are the best times to see gray whales migrating south past Cannon Beach and Manzanita! You can spot whales right from the beach with a powerful pair of binoculars, but two of the best places to see these awesome creatures are from the top of Neahkahnie Mountain or from Ecola State Park. Bonus: During the week of Christmas to New Years, as part of Whale Watching Spoken Here, there will be volunteers at these locations to help you see and learn about these amazing creatures.

Photography: Summer isn't the only time to take a great picture. There are so many beautiful places to photograph on the Oregon Coast, especially during the winter months. Look for unique shots of 

Haystack Rock

 without crowds of people. Or capture a stunning image of huge waves crashing on the beach during an Oregon Coast storm. If you'd like some photography tips, 

check out our blog on the subject!

Don't forget to tag your photos with #starfishluxuryrentals when you share them on Instagram and Facebook.

Beach Combing: If your New Year's Eve trip coincides with the end of a big winter storm, you're in luck! Walk along the beach after high tide and see what the waves brought in. Some of the most sought-after treasures of the sea are glass floats that come all the way from Japan. You may also find sand dollars, interesting pieces of driftwood, artifacts from shipwrecks, and more. Keep up-to-date on the tides on our convenient online tide table! Safety tip: Never turn your back to the ocean. Sneaker waves (an especially powerful wave that breaks much higher than the others) often occur after a big winter storm.
Tips for Your Trip
As you plan your trip, know that the weather on the Oregon Coast in winter can be unpredictable, but that keeps things interesting. Some days can be crisp yet sunny, while others may be windy and rainy. Be sure to pack layers and a raincoat. Hint: a raincoat is more useful than an umbrella most of the time (unless you want your umbrella blown inside out!) The area is also known for its dramatic winter storms that are beautiful to watch from your vacation rental. No matter the weather conditions, there will be plenty for you to do during your New Year's Eve getaway. If a shower pops up during your planned morning hike, consider exploring a few shops, going sightseeing, or even enjoying a leisurely meal until the weather clears. Then, head out for a short afternoon hike.
The countdown is on…10 (9, 8, 7…). Gather your friends and family and start your own New Year's Eve tradition this year. Everyone at Starfish Luxury Rentals wishes you a prosperous and happy new year.
Take a look at our full catalog and book today! We look forward to having you.