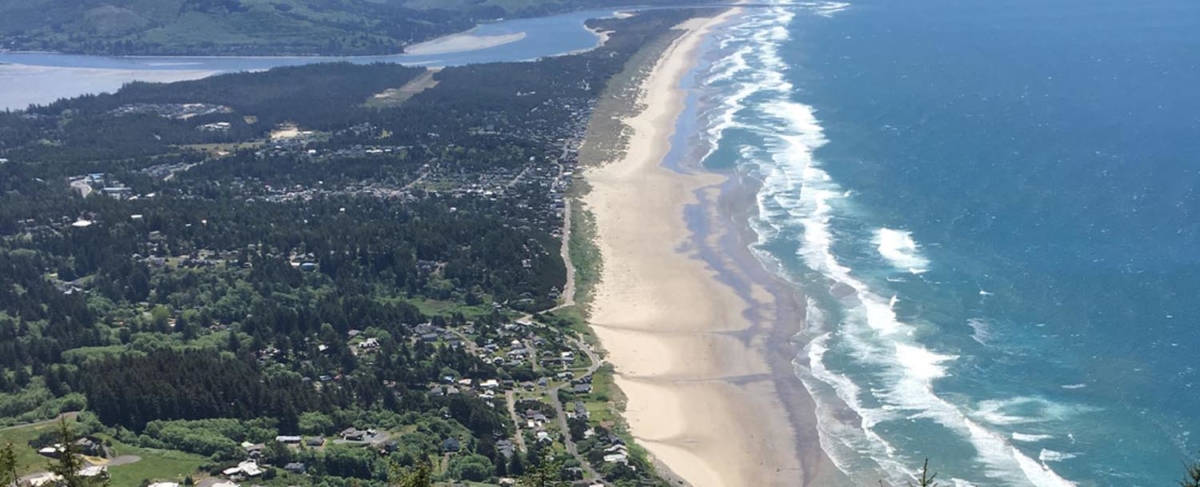 The Oregon Coast is home to many one-of-a-kind adventures. And hiking Neahkahnie Moutain provides one of the most unique experiences in our area. From beautiful mountain scenery to breathtaking views at the top, you and your family need to tackle this peak during your trip!
About Neahkahnie Mountain Hiking
What makes hiking Neahkahnie Mountain an incredible experience? This popular Oregon Coast hike features one of the most stunning vantage points in the area, with views overlooking miles of mist-shrouded coastline. The trek to the top of the mountain can be challenging in some spots, but overall, it's a great hike that the entire family will enjoy. There are two trailheads—one from the north and one from the south—that provide stunning views of the Pacific and surrounding mountains. Neahkahnie Mountain also sits in between Manzanita and Arch Cape, so you'll never have more than a 20-minute drive from your Starfish Vacation Rentals home.
North Trailhead
Hiking Neahkahnie Mountain from the north trailhead is a moderate challenge compared to the south trailhead. You'll need trek through varied terrain with a steeper elevation gain, but it's well worth the effort. As you wind your way through switchbacks filled with thick forests of trees and underbrush, you'll gradually make your way up to groves of spruce and hemlock trees. This is where you'll want to have your camera handy. Views of the coastal cliffs, the Devils Cauldron, and Cape Falcon create an incredible scene. Continue along the trail until you reach the Neahkahnie Mountain Trail Viewpoint, where you'll want to stop and soak in the scenery before heading back down to your car. The total distance of this out-and-back hike is five miles.
South Trailhead
Hiking Neahkahnie Mountain from the south trailhead is easier than from the north trailhead, although there are a few tricky switchbacks. This route is better for those with younger children, as it's only a three-mile roundtrip and has half of the elevation gain. The tree line along the south trail is not very thick, so you'll get plenty of glimpses of Manzanita located to the south along the coast. Once you journey up through several switchbacks, travel along the spine of the mountain until you reach the viewpoint. Snap some photos and revel in the gorgeous panoramic views before heading back down the trail.
Getting There
Both the north and the south trailheads of Neahkahnie Mountain have their own parking areas. You'll find parking for the north trailhead conveniently located along the side of the Oregon Coast Coast Highway 101. From there, you have to cross the highway to access the trail. Parking for the south trailhead is closer to Manzanita, and there is a small gravel lot once you turn off Highway 101 onto Road 38555. 
Other Nearby Hiking Hotspots
The Oregon Coast is home to a treasure trove of hiking trails in addition to Neahkahnie Mountain. Nearby Oswald West State Park, Ecola State Park, and Saddle Mountain all offer unique experiences that you won't want to miss during your trip.
Discover the Ultimate Oregon Coast Getaway
Starfish Vacation Rentals offers guests an experience that is second to none on the Oregon Coast. Our collection of properties features oceanfront, ocean view, and family-friendly properties located in between Cannon Beach and Rockaway Beach. You and your family will love waking up to stunning views of the coast while being minutes away from Neahkahnie Mountain and a bevy of other hiking trails, beaches, and outdoor adventures! If you need extra help planning your trip, reserving a private chef, or getting your groceries delivered to your house, our guest services are second to none in the area. 
Start planning your Oregon Coast getaway today by booking one of our homes. We look forward to welcoming you to the Starfish family!