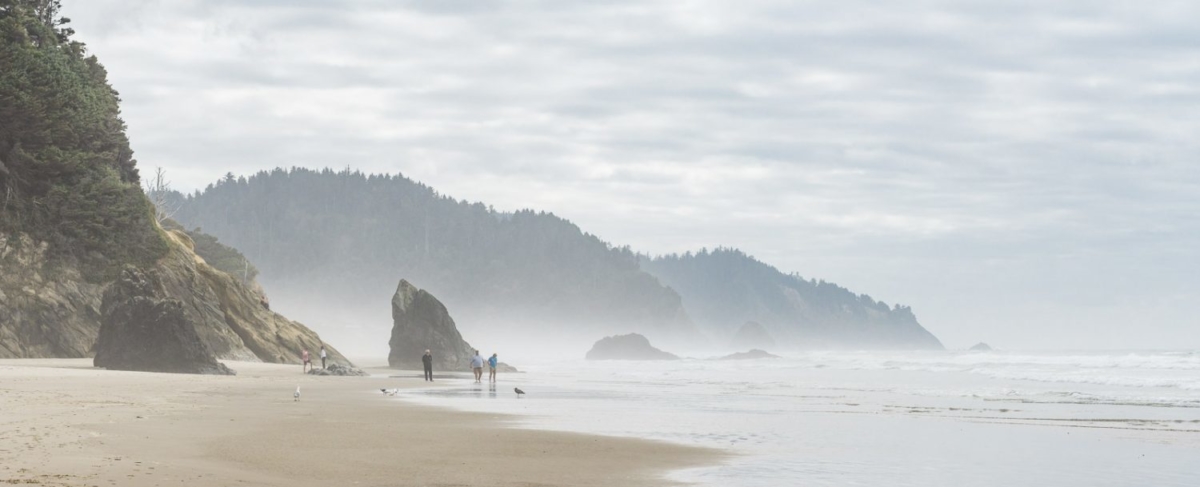 Flanked by two well-known state parks, Ecola State Park and Oswald West State Park, you may be tempted to drive right by Hug Point when visiting Cannon Beach and Manzanita. But then you would miss seeing the beautiful waterfall, exploring mysterious caves, and searching for starfish among the tide pools teeming with sea life. Hug Point State Park is located five miles south of Cannon Beach and just north of Arch Cape. Read on to discover why you should visit this gorgeous stretch of coastline during your next vacation at the Oregon Coast!
Spend an Afternoon Exploring Hug Point State Park
Rich History of Hug Point in Oregon
Hug Point State Park got its name in the late 19th century before Highway 101 was built. In those days, the only way to travel along this stretch of the coast was via the beach. So, the pioneers and their stagecoaches had to wait for low tide and then hug the rocks in order to get around the point without getting wet. Thus, the name Hug Point! Today, guests can walk along the original stagecoach road at low tide and discover the old stagecoach wheel ruts still carved into the rock.
Hiking and Sightseeing

From the parking lot, walk down the stairs to the beach. If you head north and around the first point called Adair Point, you'll arrive at the site of a beautiful waterfall that spills onto the beach. The waterfall is a favorite for families as kids have fun scrambling up the banks to explore the reservoir above that feeds the waterfall. This waterfall is also the perfect backdrop for a family photo. Much of the headland here is sandstone, and the Pacific's pounding wave action has carved out several explorable caves, cliffs, and tidepools. It is also a beautiful and often less-windy spot to enjoy a picnic. Keep your eyes peeled for Haystack Rock, one of the most identifiable landmarks along the coastline, and don't forget to bring your camera! If you'd like some tips on taking a great photo, take a look at our blog on photography tips along the Oregon Coast!
Off the Beaten Path
If you are up for a refreshing and less-traveled hike or are in search of tide pools, you can head south from the parking lot and around Point Meriwether. You'll be following the Oregon Coast Trail which passes along the beach at this point. Soon you'll find yourself at the north end of Arch Cape where there is a rock outcropping covered with colorful sea anemones, mussels, crabs, and an occasional starfish, jetting out from the ocean.
Best Time to Visit
If you are coming during the summer, you'll want to get to Hug Point early in the day. The small parking lot fills up quickly and cars end up having to park along the highway. Better yet, book one of our Arch Cape vacation rentals and you'll be within walking distance to Hug Point!
It's also best to time your visit at low tide when the rocks and caves are exposed. You can check our handy Oregon Coast tide chart for predicted times of high and low tides, plus get some more suggestions for things to do near Cannon Beach and Manzanita.
Look Out for the Tide!
Visitors should always be aware of the water when exploring the beach and headlands of Hug Point State Park, as it is possible to become stranded at high tide.
Return to a Home From Starfish Vacation Rentals
After a day spent exploring Hug Point State Park, there's no better feeling than coming back to your very own rental where you can wash off the sand, put your feet up, and unwind. Check out our outstanding selection of oceanfront and ocean view vacation homes in Arch Cape, Rockaway Beach, Cannon Beach, and Manzanita. Whether you're searching for a family-friendly property or you're in need of a pet-friendly home, we've got it!
Are you ready to book? Go ahead and take a look at our full selection of rentals and book today! We look forward to having you.