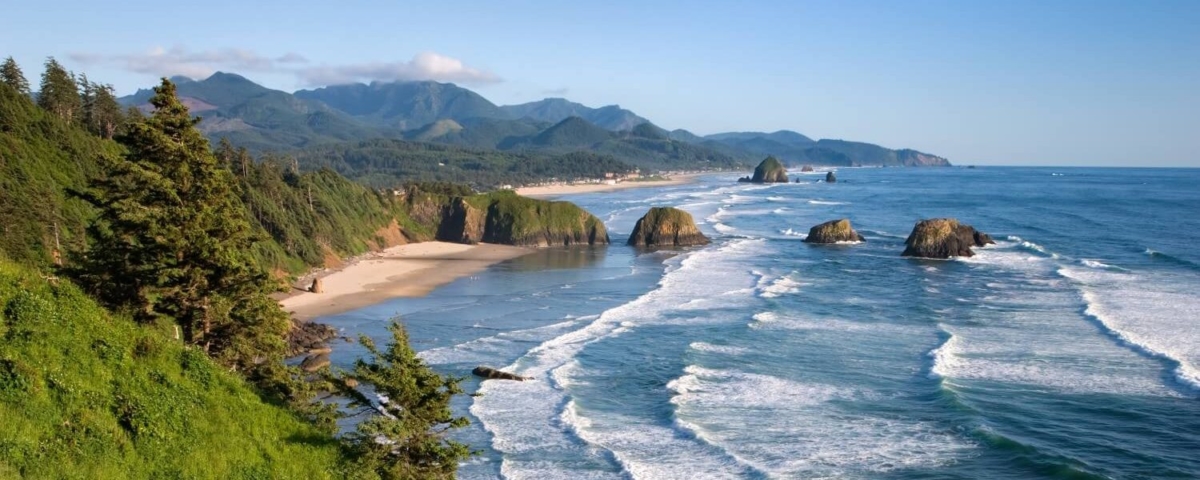 "What is there to do in Cannon Beach, Oregon?" If you've never been to the Pacific Northwest, this is a great question! Nestled between rugged forests and the Oregon Coast Mountain Range, Cannon Beach is a destination unlike any other. This four-mile resort town was named one of the world's most beautiful places and attracts more than 750,000 visitors each year. Whether you're interested in art, culture, history, or nature, Cannon Beach truly has something for everyone! Here are some of our favorite things to do there.
Learn more about fun things to do in Cannon Beach on our Things To Do page! It's full of recommendations for must-see attractions in the area.
What Is There to Do in Cannon Beach, Oregon? Your Questions Answered! 
Outdoor Activities
From picnicking and surfing to hiking and horseback riding, Cannon Beach offers awesome outdoor recreation during any time of year. Guests can visit Ecola State Park and explore its lush forests, coastal mountains, and grassy bluffs that overlook the ocean. (Keep your eyes peeled for migrating gray whales in the winter and spring!) Or check out Haystack Rock, one of the largest sea stacks on the Pacific coast. Its rocky reefs and tidepools are home to countless species of wildlife.
Shopping
Need a little retail therapy? You're in luck! Cannon Beach offers a wide range of unique boutiques and storefronts. Pick up some new gear at Cannon Beach Surf Shop, or browse men's and women's clothing at the mall. Don't forget to stop by Yuletides Christmas Shop! Whether you're looking for the perfect outfit, gift, or souvenir, Cannon Beach shopping has it all – and then some.
Dining
One of the best parts of any vacation is being able to taste the cuisine of the region you're visiting, and the Oregon Coast is no exception! Whether you're in the mood for pizza, pasta, seafood, or steak, the restaurants in Cannon Beach have something for every palate. Some of our favorites include The Irish Table, The Wayfarer Restaurant and Lounge, Crêpe Neptune, and Sweet Basil's Cafe. Read our blog for details!
Art Galleries
If you love exploring local art galleries, you're in for a treat in Cannon Beach. In fact, our thriving art community has become the art mecca of the Oregon Coast and offers plenty of galleries for you to experience. A couple of our favorites include DragonFire, which features a range of artists and mediums that range from paint to fiber to metal, and Modern Villa, a contemporary gallery featuring the works of 10 artists. Would you like more suggestions for local art galleries? Visit the Cannon Beach page on our website.
Relaxation
If you're desperate for some "me time," Cannon Beach is the perfect place to unwind. This laid-back seaside town offers plenty of health centers, salons, and day spas that will help relax and restore. You can even sign up for a class at Cannon Beach Yoga Arts. Yoga is one of the best activities for physical and mental well-being, and this facility has classes for yogis of all ages and skill levels. Namaste!
Book Your Stay with Starfish Vacation Rentals
Now that we've answered the question "What is there to do in Cannon Beach, Oregon?" it's time to start planning your vacation! For the perfect home-away-from-home, look no further than our Seven Spruce vacation rental. Tucked into a peaceful, wooded neighborhood, this polished property features an open floor plan and fabulous outdoor spaces – including a private backyard with a fire pit and outdoor shower. You can take a short walk to Tolovana Beach State Park, venture into town, or simply stay home and curl up by the fireplace. Whatever you choose, we promise your getaway to Cannon Beach will be one for the books! We look forward to having you.
Looking for more great places to explore?
Read our blog about fun things to do on the Oregon Coast!
Photo Credit: jenmstrong | Getty Images