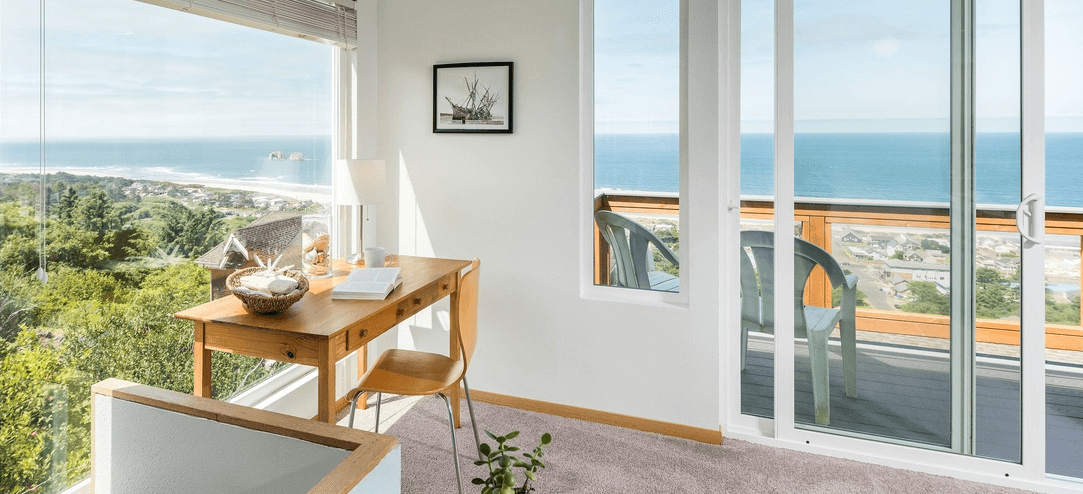 The chances are you're seeing 'workcations' filling up your news feed! It's the latest buzzword that is shaping the post-Covid-19 era of remote working, as many businesses make a permanent transition to a remote workforce and employees go in search of the ultimate work-life balance. New data from Airbnb shows that property reviews mentioning 'remote working' or 'working remotely' have tripled since last year!
As the entire world learns to move to the beat of a different drum amidst a global pandemic, we're loving this new travel trend, but what exactly is a workcation?
'Workcation' is defined as "a working vacation, where you go to an exotic location and complete specific tasks or accomplish a goal before you leave". It's the silver lining of the changing workspace where we're seeing an emphasis on a healthy work-life balance, combining work with a healthy lifestyle, and being able to take a vacation from the workplace, (which for many is a small space within their home right now), but not the work. 
Workcations are a source of creativity! A simple change of scenery and stepping away from your environment and the daily grind fosters free-thinking and increased productivity. A chance to lower your stress levels, recharge your batteries, and restore some equilibrium to life. Immersed in nature, no distractions, no honey-do lists … yet all the comforts of home, luxurious amenities, and new inspiring activities to discover in your downtime.
Set out on the Ultimate Oregon Coast Workcation with Starfish Luxury Rentals!
If the walls are starting to close in on your new virtual home office, why not consider a workcation on the scenic Oregon Coast. With home-schooling and remote learning on the rise too, our vacation rental homes are equipped for the whole family to work-from-home and play hard too! Our homes have free WiFi and dedicated work-stations, and our personalized complimentary concierge service is on hand to make your life easy (and fun!). From printing projects and business documents, arranging grocery deliveries prior to arrival, to personal chefs, in-home massage, private yoga lessons, or surf lessons, our local Oregon Coast expert is available to any guest that books direct with Starfish Luxury Rentals. 
Trust us to create a business class experience for the ultimate Oregon Coast workcation. 
From Cannon Beach to Rockaway Beach, our inviting beach rentals dot the seascape of the Oregon Coast. Our portfolio of properties ranges from luxury oceanfront rentals and family-friendly vacation homes perfect for the home-schooling kids to pet-friendly homes so the fur-kids get to come too! 
Our top pick of Oregon Coast vacation rentals for the ultimate workcation!
You can't beat the 180-degree ocean views from this 3 bedroom luxury vacation rental. Whether it's home-schooling at the dining table, catching up on emails from your private ocean-facing deck (you have a choice of 2!), or having a corporate meeting from the privacy of the master suite, Blue Horizon has an ocean view from every workspace. A prime location less than a mile from town and the beach … and you can bring your pooch!
This exceptional 4 bedroom home offers both space and privacy and is an all-time favorite when it comes to family-friendly Oregon Coast vacation homes. If you're traveling with the kids, don't pass this one by, they get their own nautical themed retreat with a playroom and workstations that make learning fun! With impressive ocean views, a gorgeous outdoor fire pit, and amazing lifestyle amenities, Rancho del Mar is a winner for a stress-free workcation. 
For the ultimate work-life balance, this is it! Chapman Cove is a hop, skip and jump from the sandy beach, perfect for a quick pick me up between Zoom meetings! This stunning 4 bedroom oceanfront home has space for the whole family to set up their work gear with a large dining table and extensive reading library and workspace. And, if it all gets too stressful … a long beach walk followed by a private sauna and long bubbling soak is the perfect downtime. 
When you want to be REALLY remote, Santo Cristo offers the finest in space, privacy, and home comforts with high-end flair and luxurious amenities. This 5 bedroom home is newly renovated and perfectly appointed for large groups with dedicated workspaces and a 12 seater table for gathering! Remote and off the beaten path (with great WiFi!), this quiet retreat is a top pick for a workcation away from the city!
With the ongoing need for social distancing and Covid-19 related travel regulations, travelers are opting for drive-to markets you can reach on a tank of fuel, scenic landscapes, and the privacy, space, lifestyle, and easy social distancing that a traditional hotel room fails to provide. A workcation provides an opportunity to create a seamless work environment, blending work, and vacation into one! With the evolution of the virtual office, we do believe the workcation is here to stay!
Count on us as your destination experts! Our reservation team is on hand to customize your vacation package, share our flexible rates for extended stays, and create the perfect workcation for you, your colleagues, and your family. See you on the Oregon Coast!