Early in the morning, you hit the beach with your board and catch the perfect wave for surfing. Where are you? The Oregon Coast! Did you know the Oregon Coast boasts several awesome year-round surfing locations?
We asked Micah Cerelli, owner of NW Surf Lessons, what you should know before surfing Oregon Coast. Micah is an Arch Cape local who's been sharing the thrills of riding waves with beginning surfers for more than a decade! Here's what she had to say.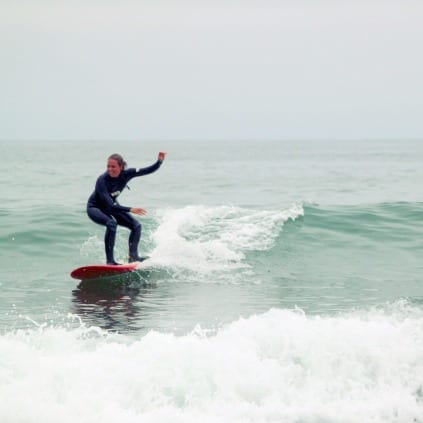 Why should beginners or even experienced surfers consider surfing Oregon Coast?
The Oregon Coast offers some of the most breathtaking views from every direction you look, but one of the most memorable and stunning of them all is that from out IN the Pacific Ocean. Learning how to surf on the Oregon Coast is not just about catching your first wave, although that is pretty fun. What makes this surfing experience so spectacular is your immediate connection with the environment that surrounds you. The large cascading cliffs, the pristine coves, and the refreshing cold water all provide you with that connection to a space that everyone strives to find when exploring new places.
Where are the best places to surf in our area?
Believe it or not, the Oregon Coast, and specifically the north coast, provides new surfers with some of the safest and best waves along the whole western seaboard!
There are a few beaches that stand out as being perfect for learning how to surf. Those beaches being Oswald West State Park, also known as "Short Sands" just north of Manzanita, and Indian Beach, which is located in Ecola State Park on the north end of Cannon Beach.
Both of these beaches are large coves, which provide protection from wind and allow the waves to break in a really clean and organized way. These two beaches also happen to be some of the most family-friendly beaches to explore.
How do I get started surfing and have a guaranteed good time?
Whether you are looking for a fun-filled vacation experience, or wanting to pick up surfing as a new hobby, it's important to start with a lesson. Surf lessons provide all new surfers with a safe and positive environment to learn about and enjoy the ocean. NW Surf Lessons is a great place to start. Through encouragement and guidance, the instructors at NW Surf Lessons will teach you everything you need to know about ocean safety, reading waves, and the surfboard basics so you can paddle, catch and stand up on that first wave.
When taking a surf lesson, all you need to bring is a backpack with some water, a snack, a towel, and a positive attitude. Bringing a camera isn't a bad idea, and you also might want sunglasses and sunscreen depending on the weather. You will be provided with a wetsuit and booties that will keep you warm, and a 9 foot surfboard that makes catching waves easy and rewarding!
Lessons last about 2.5 hours and always start with a safety beach talk, a little practice standing up, and then lead right into water time! People of all ages are encouraged to give surfing a shot. It's fun for the whole family. If you're under 18, you must have a guardian; they don't need to take the lesson, but it's always more fun if they do. There's no smile as pure as the one on someone riding their first wave!
What's the best time of year to learn to surf?
Surfing Oregon Coast is a year-round sport, but the very best time to learn how to surf is in the summer, when the northwest winds are blowing and the waves are small.
Thanks, Micah!
Ready to Carve Some Waves?
With the resources available to learn to surf in a safe, fun environment, what have you got to lose? Book with us today and take your beach vacation to the next level of adventure!
[button link="http://bookings.starfishluxuryrentals.com/" type="small" color="silver" newwindow="no"]Book Now[/button] [button link="https://starfishluxuryrentals.com/contact-us/" type="small" color="silver" newwindow="no"]Questions? Contact Us[/button]