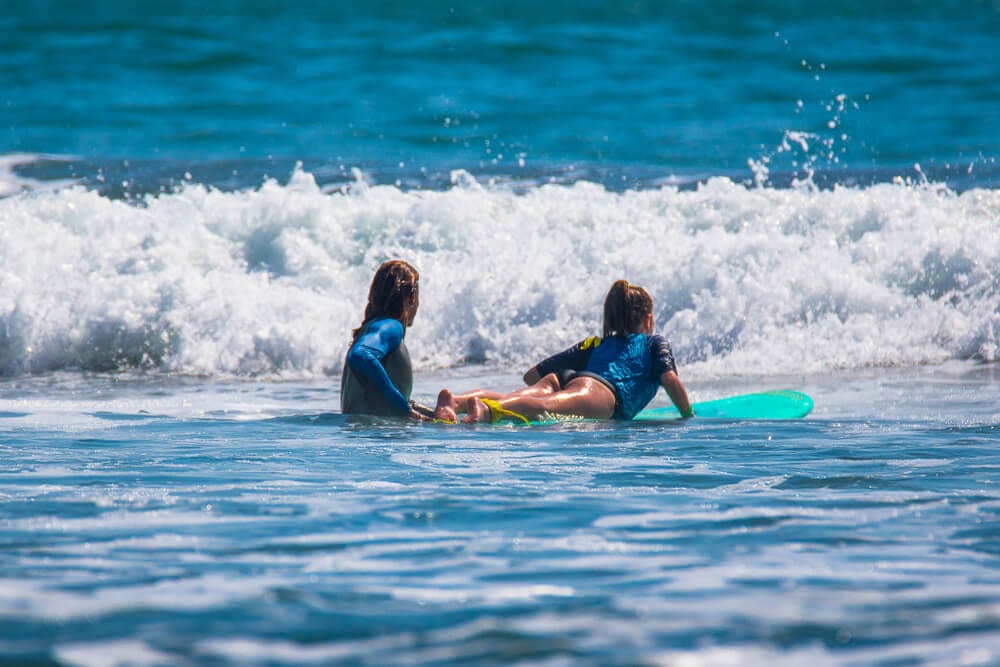 Oregon's gorgeous coastline creates ample opportunities for surfing. If it's been on your bucket list, or you think it could be a fun family activity, consider testing the waters with a surf lesson in Oregon! 
The Ultimate Surf Lessons in Oregon
These companies will cater to your every need when teaching you to surf, whether that be skill level, group size, or your comfort level. Each place has an assortment of lessons to choose from so that you get the most out of your experience, making them the ultimate surf lessons of Oregon!
Oregon Surf Adventures instructs four different surfing lessons – beginner, intermediate, semi-private, and private. Each expert instructor is child and adult CPR, first aid, and water safety certified. Surf equipment rental is $25 per person.  
Beginner lesson

: This three-hour lesson will be taught in a co-ed setting. The instructor will focus on ocean awareness, equipment use, water safety, surf techniques, and surf etiquette.

Semi-private lesson

: This lesson is great for two people looking for custom instructions. The instructor will tailor the lesson to your abilities and needs, making it a great option for beginners and intermediates.

Private lesson

: The private lessons are one-on-one with an expert instructor, who will tailor the lesson to your abilities and needs. It is a great option if you are really truly interested in improving your surf skills!

Private party lesson

: This is the best option if you have a group interested in surfing! This lesson will introduce you and your family or friends to the sport of surfing and create a fun and safe environment. 
Cannon Beach Surf Lessons & Rentals teaches surf lessons for all ages and all skill levels. Lessons are approximately two hours long and include a wetsuit and board rental. Choose the lesson that sounds most fitting to you, then book your reservation online, and head out to ride the waves!
Private and semi-private lessons

: A great lesson for beginners and intermediates, the instructors will start with a safety talk and dryland training and then spend time in the water. Lessons go from 10 a.m. until 12 p.m., with the option to keep the board until 3 p.m. if you'd like to keep surfing!

Two-day lesson

: If you want to solidify your skills, you can take lessons back to back! Another great lesson for beginner and intermediates, you will be provided with all of your surfing gear and can hold onto your board until 3 p.m. each day.
A group lesson is also offered if you and your friends or family would like to learn the basics of surfing. If your group is larger than five, contact Cannon Beach Surf Lessons & Rentals at 503-791-3515.
Northwest Women's Surf Camps offer an array of different lessons and surf camps for families, children, teens, and adults. Visit their website to view the list of camps that are available to aspiring surfers.
Coed, private, and semi-private lessons

: This is a great way to learn the basics of surfing. If you'd like to have a more one-on-one experience, a private or semi-private lesson could be a better alternative. At any of these lessons, you will get experience in the water and learn different skills and techniques about surfing. Lessons also include surf equipment – a soft top surfboard, wetsuit, boots, gloves, hood, and a Gath surf helmet. 

Coed bodyboarding clinics for teens and adults

: This clinic will teach you the essential skills necessary to catch waves on your own, help you understand the "recipe for a perfect wave," as well as learn ocean and riptide safety. 

Custom group lessons

: These group surf lessons offer families, reunions, wedding parties, graduation parties, and any other groups the opportunity to learn how to surf.

Custom group lessons can be for groups as large as 12 and will teach the same basics of surfing as the coed, private, and semi-private lessons.
Our luxury Oregon coast vacation rentals will be your home-away-from-home. Our gorgeous rentals are located in Cannon Beach, Arch Cape, Manzanita, and Rockaway Beach so that you can bask in the beauty of Oregon's coastline. We cater to small and large groups, with rentals able to sleep up to 16 people. We want to make your stay with us go as smoothly as possible, from the reservation process to your return home, which is why we offer so many guest services. Be sure to view our specials online before giving us a call to book at 503-297-4090!