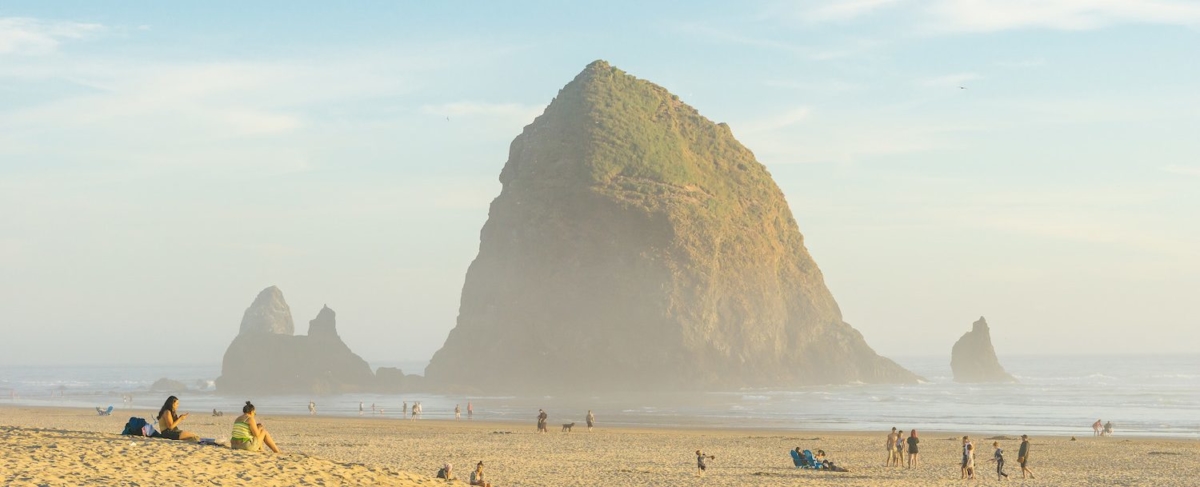 Although airline travel and exotic destinations are limited due to the Covid-19 pandemic, you and your family can still have an exciting family-friendly adventure during Spring Break at the Oregon Coast. It's the perfect time to explore the area without the summer crowds, and while the forecast often includes showers in the spring, there are usually enough sun breaks to give you time to get out and explore.  Plus, with our complimentary concierge service and the useful tips found in this blog, you'll have an easy time planning your trip. Check out the top things to do during spring break at the Oregon Coast below!
Add These
Spring Break Ideas on the Oregon Coast
to Your Itinerary
Explore the Great Outdoors
Go Whale Watching
Late March marks the start of the grey whales' migration to Alaska, making this an excellent time for a whale-watching adventure! While traditional Whale Watch Week is not happening due to the pandemic, you can still spy these amazing animals if you have a little patience and you know where to look. Ecola State Park in Cannon Beach and the Neahkahnie Mountain Historic Marker near Manzanita are two fantastic spots for whale watching along the North Oregon Coast. 
Another way to get up close and personal with these gentle giants is by booking a whale-watching excursion. The Whale's Tail offers a variety of trip options in March through September.
Surf the Day Away
Get back in touch with nature and enjoy an afternoon of fun exercise when you book a lesson at Northwest Women's Surf Camps! This fantastic organization offers group, private, or semi-private surf, bodyboarding, and stand-up paddleboard lessons for the entire family. Their instructors have years of proven teaching experience and a passion for the sport. They also partner with Cleanline Surf, our local surf shop, for equipment rental, so you won't have to worry about finding the right wetsuit or board. Spring can be a wildcard for surfing on the Oregon Coast, but whenever conditions and weather are favorable, they will definitely schedule lessons.  You can reach them at 503.440.5782 to inquire.
Go for a Ride on the Oregon Coast Scenic Railroad
The Oregon Coast Scenic Railroad is the perfect addition to any itinerary, though spring brings one of the railroad's best events. Guests staying in Rockaway Beach should buy tickets to their 1.5-hour excursion along the gorgeous Tillamook Bay and the Oregon Coast. The route goes between Garibaldi and Rockaway Beach and is perfect for anyone hoping to learn a little about the history of railroading in the region and see the landscape without having to drive!
Watch for the Puffins
If you're traveling to the Oregon Coast in April, you're going to want to head to Haystack Rock in Cannon Beach to watch the Tufted Puffins. These unique birds return to our area in early spring to claim their burrows and lay eggs. You'll get the best view at low tide, so be sure to check our tide chart before heading out!
Explore Seaside
If you're looking for a fun day trip with the kids, Seaside is a popular destination. This traditional spring break town proves that fun (and saltwater taffy) never go out of style. First, we suggest you see the city of Seaside on a surrey (say that five times fast!). There are some excellent rental shops in town that carry two, four, and six-person bikes. Then, head over to the Carousel Mall and ride the famous Seaside Carousel. If you're in need of a pick-me-up, head to Zingers (open from Friday to Sunday) to sample their homemade ice cream.
Visit the Cannon Beach Skatepark
A great way for your kids to burn off some energy and enjoy an afternoon outdoors is visiting the Cannon Beach Skatepark! This park is popular and you'll usually find other skaters there, but it is known as being welcoming and friendly.
Our Tips on How to Plan Your Adventure
Planning a vacation with the family can sometimes be stressful, especially if you're traveling to a new destination. If you keep these tips in mind, however, you'll be able to create the perfect itinerary in no time at all!
Have a Backup Plan
Weather on the Oregon Coast can be unpredictable. One day, it can be clear and sunny, and the next week it can be overcast with drizzles. We suggest that you find some awesome nearby indoor attractions. One great option is the Seaside Aquarium. This is a huge hit with kids of all ages. They'll love feeding the seals and getting up close with the animals. While you're in Seaside, head to the public pool where you and the little ones can enjoy a day of splashing around. They also have an oversized hot tub for a blissful soak. (You can also book one of our homes that features a hot tub for even more relaxation!) The Tillamook Cheese Factory is also fun. You can take a free, self-guided tour before heading to the Food Hall for a delicious meal. Be sure to get some cheese curds to bring back with you! For even more suggestions, check out our blog on Oregon Coast museums!
Take Advantage of our Guest Services
Don't stress about the little things during your trip to the Oregon Coast. Let us take care of you through our guest services program so you and your family can concentrate on having the best vacation! Our complimentary concierge service can assist you in just about every step! Whether you need help planning your vacation, making reservations, and even finding the perfect vacation rental for your family! We also offer pre-arrival grocery shopping. There's nothing better than arriving at your vacation rental that's already stocked with all your favorite snacks! If you're traveling with little ones, be sure to ask about our baby furniture rentals. We'll arrange for everything you'll need, like playpens and high chairs, to be delivered to your home. No need to lug around bulky equipment!
Book Today With Starfish Vacation Rentals
Before you start putting these ideas for a spring break getaway on the Oregon Coast to use, you need to find the perfect vacation home. Starfish Vacation Rentals has the most luxurious properties on the coast, and including some that are just right for families.  Enjoy stunning views, spacious accommodations, and top-notch amenities during your next trip.
Check our full selection of homes and book today!