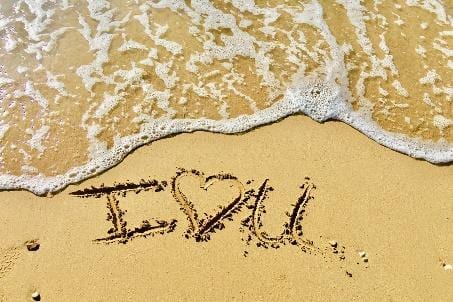 Valentine's Day is next month! Do you know where you're going to celebrate with your special someone? Have you thought about taking romantic getaway on the Oregon coast?
Valentine's Day is on a Sunday this year, making it perfect for a short weekend trip. Leave town on Friday after work. Spend day enjoying the coast on Saturday. Enjoy a romantic and delicious dinner on Saturday evening. Sleep in on Sunday, take it easy and get back home in time for work on Monday.
Today, I'll help you plan a romantic Valentine's Day weekend trip to the Oregon coast. I'll show you a great place to stay, help you find a few relaxing, fun, and romantic activities to help you enjoy your trip (and share a great special offer from Spa Manzanita), and tell you about my favorite restaurants!
Let's get started!
Where to Stay: Wavescape
Wavescape Vacation Rental in Arch Cape
Are you looking for a relaxing, secluded, and romantic place to stay for Valentine's Day? Look no further than Wavescape, one of my favorite rentals in Arch Cape.
The beautiful 3-bedroom house has ocean views and is just a stone's throw from the ocean itself. Plus it's located just a 10-minute drive from Cannon Beach, one of my favorite towns on the coast (and one that I'll talk more about in just a bit).
If you're looking for an outdoor adventure, Hug Point is just a short walk up the beach and is home to amazing waterfalls, caves, and tide pools. You can also surf at nearby Short Sands beach, hike Neahkahnie Mountain, or kayak, crab, and clam at Ecola State Park.
Other features of Wavescape that you'll love include:
Romantic river rock fireplace right in the master suite!
Gourmet kitchen, perfect for cooking up a romantic meal
Living room with fireplace, TV, Blu-Ray player, board games, and puzzles
What to Do
Spa Manzanita – Special Valentine's Day Offer!
If you want to pamper yourself and your partner on your romantic Valentine's day trip to the Oregon coast, look no further than Spa Manzanita.
You and your special someone can enjoy a couples massage, facials, foot soaks, and many other incredibly relaxing massage services and body treatments. You'll even be able to enjoy delicious locally prepared light meals and snacks to make your day more relaxing and enjoyable.
Special Offer from Spa Manzanita
I reached out to Spa Manzanita and they made a very generous offer to readers of my blog!
All you have to do is book a 60 or 90-minute massage and Spa Manzanita will include a free aroma journey!
Or book a couples massage and receive a complimentary foot soak and tea to enjoy after your massage.
Just mention the promotion and the Starfish Luxury Rentals blog when you book. Offer expires February 14th, 2016.
Yoga Roots Studio
What's my favorite thing to do on a weekend trip to the coast? Relax, unwind, decompress, and did I mention relax!?
There's no better way to relax and relieve stress than to spend some time at Yoga Roots Studio in Manzanita. Start your day with an invigorating and relaxing yoga session. Choose from traditional Vinyasa yoga, classes for beginners, or private yoga classes for you and your partner.
Yoga Roots Studio is located in downtown Manzanita and is one of the best yoga studios on the Oregon Coast! Give them a visit. You'll love it!
Shopping!
One of my favorite things to do on the Oregon coast is to shop! There are so many great antique stores, local art galleries, and clothing boutiques in every city on the coast.
Cannon Beach is known for its art galleries. One of the best-known is the White Bird Gallery, known for celebrating local artists and focusing on the intersection of fine art and hand-crafted works. You'll be able to see some of the most amazing paintings, sculptures, handmade glass pieces, and much more!
If you visit Seaside, browse the shops and boutiques along the promenade. A Valentine's Day visit is a great time to avoid the touristy crowds that can overwhelm the boardwalk on sunny summer days. I especially love visiting the Funland Arcade to play games and ride the bumper cars. It makes me feel like a kid again!
If you're looking for more ideas on how to enjoy a trip to Seaside, here's a list of 30 great ideas!
Where to Eat
Portland is known for its happening food scene. And rightly so! But unfortunately, restaurants on the coast sometimes get overshadowed by those in the big city.
However, if you think there are no great restaurants on the Oregon coast, think again Here are a few of my favorite restaurants on the Oregon coast. They're perfect for a romantic Valentine's Day dinner!
Koko's Restaurant
Koko's is an incredible restaurant, located at the Alderbrook Golf Course in Tillamook. It's known for its menu featuring local seafood and meat (not to mention Tillamook cheeses, of course!).
For a special, romantic Valentine's Day meal, don't forget the desserts! Check out the incredible cakes, tiramisu, and creme brulee pictured above! And as you can see, their plating is just beautiful, too!
My favorite dishes? Go for the salmon risotto, ribeye steak, and Caesar salad. And make sure to enjoy a cocktail, too! But, no matter what you order, you really can't go wrong at Koko's. You'll have a wonderful romantic meal! I guarantee it!
Newmans at 988
Newmans at 988 is located in Cannon Beach and serves some of the finest French and Italian cuisine I've had anywhere!
The dinner menu at Newmans at 988 is highlighted by simple, but delicious pasta dishes and entrees that make great use of local ingredients and classic French and Italian cooking techniques. Pictured above are the lobster ravioli and mushroom polenta. Both would make great choices for a rich, elegant Valentine's Day dinner.
No Valentine's Day meal would be complete without a fantastic dessert and Newmans at 988 has some delicious desserts on their menu! Choose from classics like creme brulee, cheesecake with cherry compote, or a housemade gelato. Yum!
And just like any great French restaurant, Newmans at 988 has an incredible wine list with options to fit any budget. Ask for wine or port to pair with you dinner or dessert and you won't be disappointed!
Enjoy Your Valentine's Day Visit to the Oregon Coast
If you visit the Oregon coast for Valentine's Day (or any other romantic occasion), I hope you have a wonderful time. If you're planning a trip and have any questions about where to stay or what to do, contact me. I'd love help you make sure you have a trip you'll never forget!
And if you have any favorite romantic spots on the Oregon coast that I didn't mention, leave me a comment on Facebook. I can't wait to discover some great new places to visit!
Photo Credits: Nick J Webb, BettyNudler, Alex