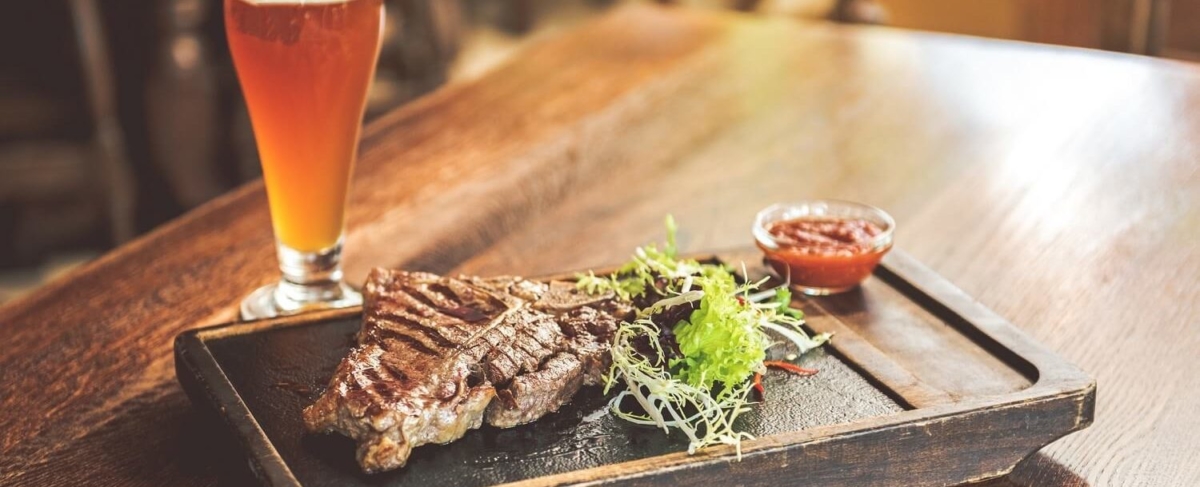 The food scene along the Oregon Coast is quickly becoming known as one of the fastest-growing in the country. Thanks to the excellent Willamette Wine Valley and the abundance of delicious seafood found in nearby waters, more visitors recognize what we've known all along! Experience the amazing cuisine for yourself during your next stay with Starfish Vacation Rentals. Check out some of our favorite Oregon Coast restaurants listed below. Plus, discover how you can book your home in the heart of the Oregon Coast.
Some of Our Favorite Oregon Coast Restaurants
The Wayfarer Restaurant and Lounge
The Wayfarer Restaurant and Lounge features spectacular vistas of the Pacific Ocean and Haystack Rock. That's why it's known around Cannon Beach as the perfect place to enjoy dinner with a view. Here, guests can munch on local Northwest cuisine for breakfast, lunch, and dinner. You'll find menu items like Pacific razor clams, prawn scampi, and the signature Wayfarer chowder. Be sure to call ahead to request a window seat!
Sand Dollar Restaurant and Lounge
If you're staying in Rockaway Beach, head to Sand Dollar Restaurant and Lounge for a lovely dinner. They offer a selection of fresh, local seafood and burgers made with 100% local beef. Sand Dollar also has some great gluten-free options which are all clearly marked.
Castaways
Castaways, a wonderful restaurant and tiki bar, offers delicious eats, refreshing drinks, and a fun and friendly atmosphere for guests to enjoy. All of their Caribbean-style seafood dishes are served with a creole twist and feature unique pairings like honey orange coconut prawns and spicy cajun mac and cheese.
The Irish Table
For seasonal food with a creative Irish influence, head to The Irish Table! Guests can enjoy perfectly-cooked steaks or delicate fresh fish that pair perfectly with the restaurant's extensive assortment of Irish whiskeys and Oregon wines. Don't forget to order the hot soda bread!
Pizza a'Fetta
Pizza a'Fetta is a staple in Cannon Beach and has been serving up some of the best pizza in the region since 1988. You'll have the option to order full pies or pizza by the slice. Try some of their unique flavor combinations like Thai grilled chicken or the seafood lover's crab pizza. Yum!
Crêpe Neptune
Considered one of the most popular places for breakfast in Cannon Beach, Crêpe Neptune offers a wide variety of savory and sweet treats. You'll find everything from classic Nutella crêpes to ham & cheese breakfast eats as well as gluten-free, dairy-free, and buckwheat batter options.
Sweet Basil's Cafe
Sweet Basil's Cafe is perfect for guests with dietary restrictions, offering an eclectic mix of cuisine including seafood, poultry, pork, and vegetarian and vegan choices. From salads and sandwiches to wraps and paninis, this restaurant truly has something for everyone. Don't miss their live music on weekends!
Book Your Stay with Starfish Luxury Rentals!
After you've indulged in a top-notch meal at these Oregon Coast restaurants, return to a stunning home from Starfish Vacation Rentals. Whether you're traveling with friends or family, you'll find just what you need in our excellent selection of properties. Remember to browse our selection of pet-friendly homes so your whole family can join you on vacation!
Take a look at our full list of properties and book today! We look forward to having you.