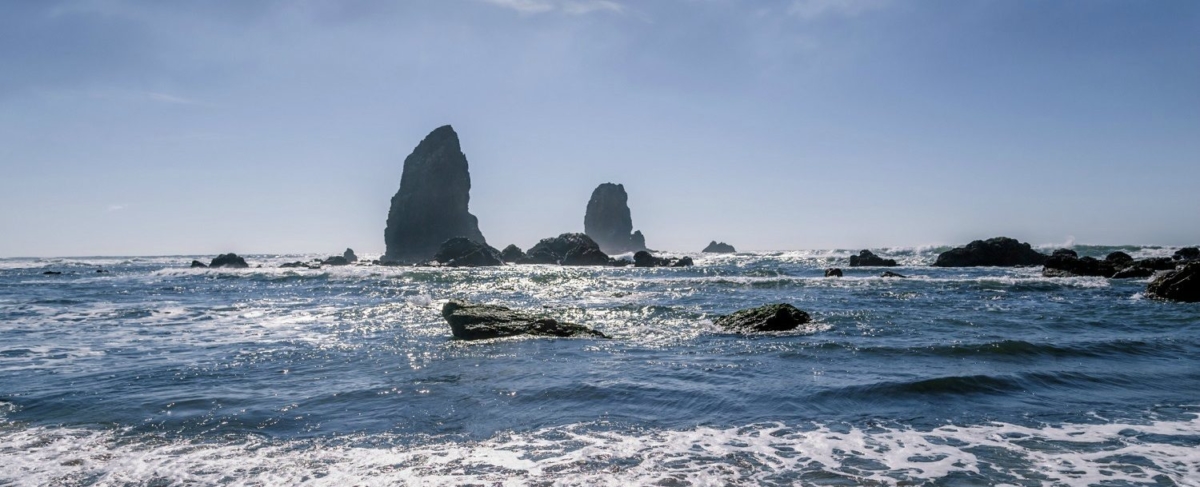 There's no bad time to visit the Oregon Coast. From the beautiful summers to the quiet winters, it's no wonder that we welcome so many visitors to our gorgeous region. If you're planning your mid-year vacation, why not visit the Oregon Coast in May? With so many great events, mild weather, and beautiful homes from Starfish Vacation Rentals, there are plenty of great reasons to start planning!
We've listed our favorite events on the Oregon Coast in May, but there's plenty more to be discovered. 
Visiting the Oregon Coast in May
The Oregon Coast weather in May tends to stay in the upper-50s to low-60s. Nighttime temperatures drop to the mid-to-upper-40s. Days can alternate between clear skies and Northwest liquid sunshine (otherwise known as rain showers). If you're worried about being stuck inside, don't be – there are normally enough sun breaks to get out to play on the beach and enjoy some sightseeing. Aside from the beautiful weather, May also brings an exciting lineup of festivals and activities so there's no shortage of things to do. From tasting some of Oregon's renowned wines to meet and greets with local authors, you'll definitely want to set aside a weekend or two to visit Cannon Beach in May. Of course, don't forget about Mother's Day! Your mom is sure to feel extra special with a trip to the beach.
Spring Unveiling Arts Festival
Every year, the members of the Cannon Beach Gallery Group host the Spring Unveiling Arts Festival. During the weekend, typically the first in May, galleries around Cannon Beach display new works as well as host demonstrations and talks with their top artists. One of the highlights of the event is the receptions, where visitors can speak with the artists. You'll also get to sample some delicious cuisine made by local restaurants – with menu items being inspired by the works of art from the festival. You may even get to hear some live music in the galleries. If you're an art-lover, you won't want to miss this great event!
Get Lit at the Beach
From wine to art to literature: there truly is an event for everyone along the Oregon Coast in May! Get Lit at the Beach is known as a gathering for readers. This festival also takes place in Cannon Beach, during the second-to-last weekend of May. The festival features author talks, book signings, and moderated q&a sessions. Whether you're an aspiring writer or a voracious reader, you'll love attending the events at Get Lit at the Beach!
Fat Tire Bike Festival
If you're not from the coast, you may be unfamiliar with fat tires bikes. These bicycles feature wider tires (as the name implies), making them perfect for riding on sandy beaches! The Cannon Beach Fat Tire Bike Festival features great events for the whole family. Enjoy s'mores and chowder at the Full Moon Beach Party or explore the town and solve the clues on the Scavenger Hunt.
Month-Wide Events
Enjoy Peak Oregon Coast Clamming
May is the start of clam season in Oregon, so it's an excellent time to partake in one of the region's most iconic traditions! Keep an eye on the tide charts. It looks like in 2019, there are going to be two weekends with minus tides. This is the best time for clamming, so guests staying with us for those weekends will have an easy time of it! Guests in our Rockaway Beach rental homes won't have to search far for prime clamming spots. You'll find plenty to enjoy right out the back door!
Oregon Wine Month
May is Oregon's official state-wide Wine Month! There's no better time for wine aficionados to visit. Many wineries hold special events during the month. These can range from classes in wine tasting to concerts. You may even find an art class or a movie night. Oregon's wine scene is impressive, with over 500 wineries in the Willamette Valley. If you're in town for Mother's Day, swing by The Wine Shack in Cannon Beach for a special tasting! For more information about local wineries, including vineyards near the Coast, check out our blog detailing everything you need to know about wine country in Oregon! 
Stay with Starfish Vacation Rentals
The first step to planning your trip to the Oregon Coast in May is to book a home with Starfish Vacation Rentals! We have an incredible selection of upscale homes along the Coast, from ocean view properties boasting beautiful views to pet-friendly rentals where the whole family can stay. Be sure to look at our guest services to further enhance your stay with us. From onsite massages to a dinner cooked by your own personal chef, we are happy to arrange extra touches to elevate your vacation to extraordinary.
Check the full list of our rentals and book today! We look forward to having you.