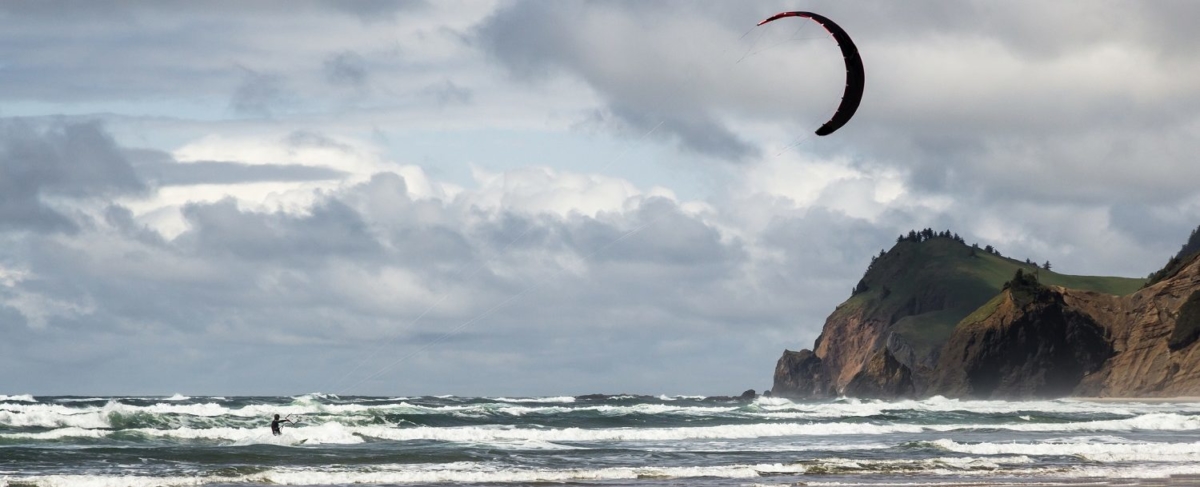 If you're looking for some of the best kitesurfing in the country, you'll find it on the Oregon Coast. We've got it all: wind, waves, and gorgeous vistas. Peak kitesurfing season is from May until September. During this time, you'll see countless visitors ride the waves and catch the wind. Find out everything you need to know to have great days kitesurfing the Oregon Coast!
Kitesurfing the Oregon Coast is just the beginning! There are so many other awesome adventures just waiting for you. 
Your Guide to Kitesurfing the Oregon Coast
Take Lessons
Watch any video of kitesurfing the Oregon coast, and you'll quickly realize that this challenging, high-speed sport can be tough to tackle. Luckily, there are great resources in the area for beginners. Several surf shops offer lessons and gear, and they'll take you to some of the best kitesurfing spots including Seaside, Cannon Beach, Manzanita, and Fort Stevens State Park.
Shop for New Gear
The Pacific Ocean in this part of the world is cold. Even during the warmest months of the year, we recommend that kiters wear a minimum of a 4/3 wetsuit. Some people even wear booties! If you can't bring any kitesurfing gear with you, don't worry – there are a number of shops in the area stocked with the tools you need.
Find Spots to Surf
All summer long, the waves and wind on the Coast are perfect for kitesurfing. Winds average between 15 and 25 MPH and waves are around four feet, providing kiters with great places to launch and land. Here's a list (from North to South) of some of the best places to launch along the coast.
Fort Stevens: About 40 minutes north of Arch Cape,

Fort Stevens State Park

is the northernmost point in Oregon to go kitesurfing. You can launch right from the beach campgrounds and travel downwind for about 1-2 hours to see the remains of the Peter Iredale, a ship that ran ashore in 1906.

Cannon Beach: Cannon Beach is a popular destination for all types of watersports. It's an especially great place for new kitesurfers, as the water tends to be shallow. If you're a beginner, contact our friends at

Cannon Beach Surf Shop

for lessons and tips.

Manzanita: Manzanita is often called the windiest place to surf on the Coast. Locals recommend bringing your smallest kite and launching from the south part of the beach. As an added bonus, Manzanita has a funky little town that's great for exploring after a day on the water.

Nehalem Bay: Because of its popularity, visitors must make reservations to kitesurf on the spectacular

Nehalem Bay

. Plan your visit in advance, if you can, or show up and get on a waitlist for the day's cancellations.
Surf Back to Starfish Vacation Rentals
If you're planning on kitesurfing the Oregon Coast, you'll need the perfect accommodations. Check out our fantastic selection of properties near Manzanita and Cannon Beach. With a selection like this, it's no wonder so many guests have returned to spend their vacations in a home from Starfish Vacation Rentals.
Check the rest of our properties and book today! We look forward to having you.