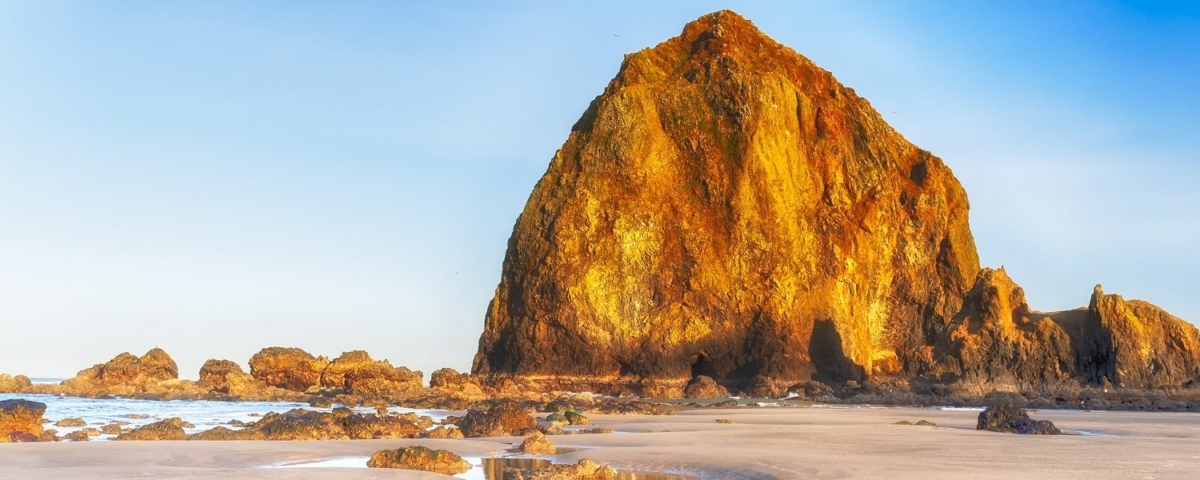 Ask anyone about the best things to see on the Oregon Coast, and you'll likely hear about the famous Haystack Rock. This giant 235-foot sea stack in Cannon Beach is one of the most recognizable landmarks in the state. It was even featured in the opening scene of the hit 1985 film The Goonies. Today, visitors of all ages flock to Haystack Rock in Oregon to learn about its history, explore its many tide pools and admire its majestic beauty. Here's why this natural wonder is a must-see in the Pacific Northwest.
Explore Haystack Rock in Oregon
Where Did Haystack Rock Come From?
Haystack Rock is composed of basalt and was formed about 15 million years ago by lava flows. In fact, flowing lava created many of the Oregon Coast's natural features, including Tillamook Head and Arch Cape. After years of erosion, Haystack Rock is now accessible by a thin strip of rock and sand that connects the rock to the beach. Three smaller formations called "The Needles" can be seen to the south.
Dosage is based on your medical condition, age, and response to treatment.
Buy cheap Xopenex levalbuterol Without Prescription
Controlling symptoms of breathing problems can decrease time lost from work or school.
Diverse Wildlife
Did you know that Haystack Rock is part of the Oregon Islands National Wildlife Refuge? It's home to a wide variety of animal species and is a great bird watching location. Visit during the summer to see the most accessible colony of Tufted Puffins in the Northwest, and keep your eyes peeled for migrating gray whales in the winter and spring.
Haystack Rock's tide pools provide a habitat for many fascinating creatures, including anemone, crabs, chitons, limpets, and nudibranchs. You can even walk up to the rock at low tide to see colorful sea stars. Visitors should remember to explore this natural area responsibly and be gentle around sea life. They are special creatures that you'll want to enjoy for many years to come!
Recreational Opportunities
For spectacular views of Haystack Rock, head to Ecola State Park. This park wraps around Tillamook Head between Seaside, OR and Cannon Beach. It stretches along nine miles of coastline and is a popular place for kite flying, bird watching, picnicking, and hiking. Don't forget to bring your camera!  
Local Tip: Be sure to visit Indian Beach, a secluded sandy beach within Ecola State Park. This area is popular with surfers and beachgoers and offers a number of tide pools. You may even catch a glimpse of local wildlife such as deer, elk, and eagles.
Book Your Stay with Starfish Vacation Rentals

Ready to start planning your trip to Haystack Rock in Oregon? Reserve one of our gorgeous Cannon Beach vacation rentals! Just steps from the sand, our homes feature plush furnishings, fully-stocked kitchens, and plenty of homey touches. We even offer concierge-level assistance that includes everything from restaurant recommendations to grocery delivery. All you have to do is check our availability and book your stay today! We look forward to seeing you on the Oregon Coast.
For more Cannon Beach attractions, check out our blog about Haystack Hill State Park.