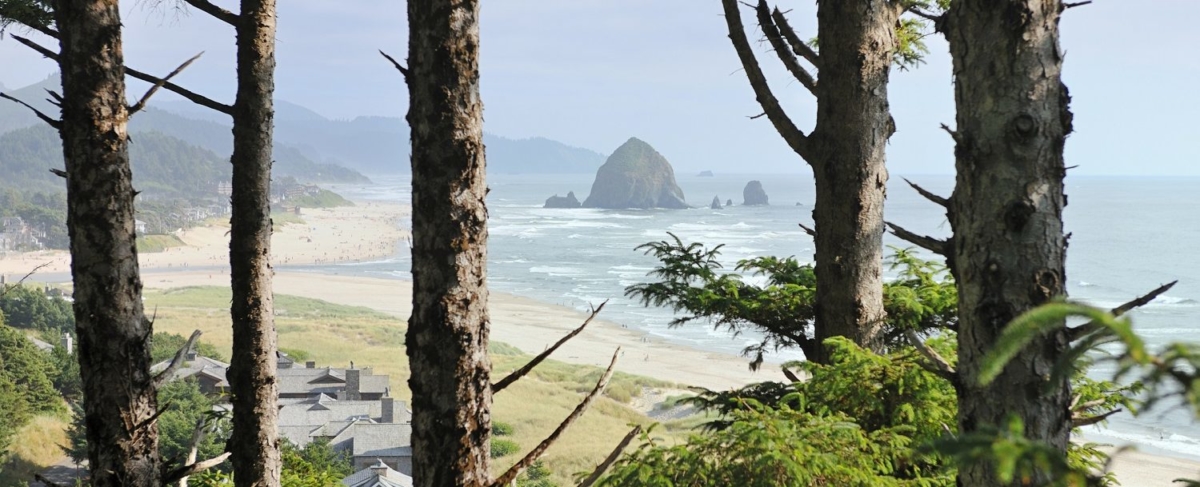 Located in Cannon Beach, Oregon, Haystack Hill State Park is a relatively unknown destination that provides a quiet place to get away from the crowds. It has a hiking trail that is easy to follow as well as a small viewing platform that faces Haystack Rock. Whether you want to search for wildlife or relax and enjoy the scenery, Haystack Hill State Park will be the highlight of your trip to the Oregon Coast! Here are some of the things you'll see there.
Find out more about Haystack Hill State Park on our Things To Do page! It's full of recommendations for great places to visit during your stay with Starfish Vacation Rentals.
Spend an Afternoon at Haystack Hill State Park
Explore the Park
If you want to see what the forests in Cannon Beach may have looked like before the heavy logging of 100 years ago, Haystack Hill State Park is the place to go. The Haystack Hill Hiking Trail wanders up a hill into the forest and is lined with many impressive trees. The eastern side of the park is exposed to the traffic noise from Highway 101, but the western side is quieter with just the sound of the surf. Keep your eyes peeled for local elk!
A small bench on the park's viewing platform provides a great place to sit and relax. Bring a camera and snap a few pictures of Haystack Rock, a 235-foot sea stack that was formed by lava flows about 15 million years ago. This monolithic rock is also accessible by foot at low tide.
How to Get to the Park
There is no parking at the start of the Haystack Hill Hiking Trail, so guests should find public parking somewhere in town. Walk south on Spruce Street and cross Sunset Boulevard, then continue on Spruce to the top of a steep hill. From there you'll follow a small driveway to an unmarked pathway. This is the Haystack Hill Trail.
Visit Ecola State Park
After your hike, take a short 15-minute drive up Highway 101 to Ecola State Park. This park is a mecca for outdoor recreation and wraps around Tillamook Head between Seaside and Cannon Beach. Guests can hike a number of trails that offer views of secluded coves, lush forests, and the abandoned Tillamook Rock Lighthouse. You may even spot migrating gray whales here in the winter and spring!

Book Your Stay with Starfish Vacation Rentals
Now that you know all about Haystack Hill State Park, it's time to start planning your trip to the Oregon Coast! Our Cannon Beach vacation rentals are perfect for a getaway and feature luxurious amenities and comfortable living spaces. You can take a short walk to the beach, venture into town, or simply stay home and curl up by the fireplace. Whatever you choose, we promise your vacation to Cannon Beach will be one for the books! We look forward to having you.
Looking for more great places to explore?
Read our blog about the best Oregon Coast hiking trails!
Photo Credit: 4FR | Getty Images