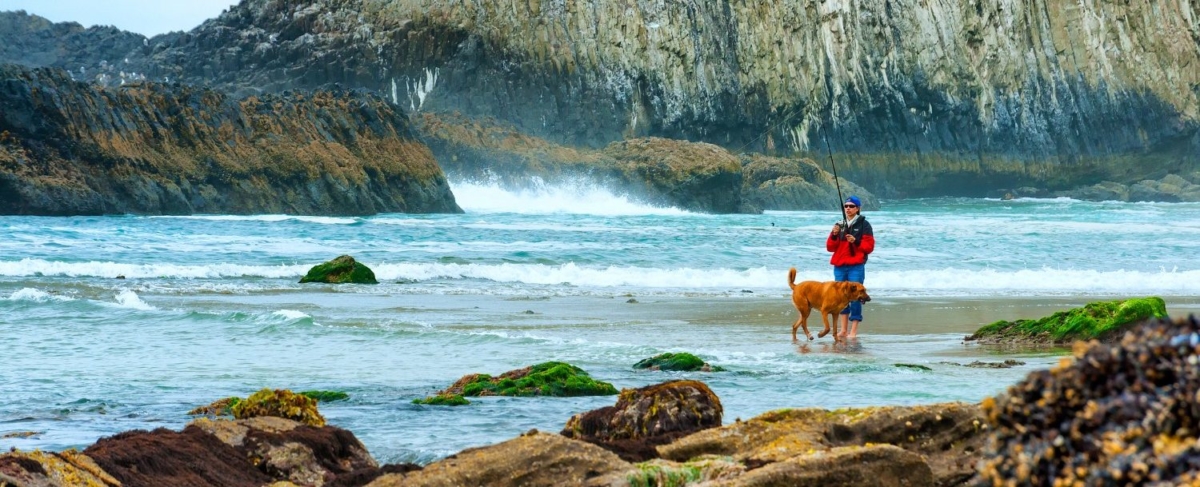 Fishing, crabbing, and clamming are all beloved traditions along the Oregon Coast! With miles of gorgeous Pacific Ocean shoreline and plenty of rivers and streams in the region, it's no wonder that so many visitors come to the Oregon Coast to enjoy the excellent fishing. If you're traveling from out of state, however, getting a fishing license isn't always easy or convenient. Luckily, the state of Oregon has plenty of free fishing weekends during the year! Find out everything you need to know about free fishing days in Oregon.
Attend Free Fishing Days in Oregon
Oregon Free Fishing Weekend dates include Presidents Day Weekend (February 15 and 16, 2020), the first weekend of June, Labor Day weekend (September 5 and 6, 2020), and Thanksgiving weekend (November 28 and 29, 2020). Many families make watching football part of their Thanksgiving weekend. Why not change it up and make going on a fishing adventure part of your holiday?
Get a Crash Course
If you're new to fishing, crabbing, or clamming, the best time to visit would be the first week in June. This is when Oregon holds its traditional Free Fishing Weekend events. The Oregon Department of Fishing and Wildlife (ODFW) sponsor free events throughout the state, providing instruction and gear to get you started and comfortable. You'll be able to learn everything from baiting your hook to reeling in (or digging up) your bounty.
Find the Goods
So what can you expect for Oregon free fishing 2019-2020? In early June, trout fishing is abundant as the rivers stabilize. Labor Day weekend in early September is the ideal time to enjoy fall salmon fishing, with Chinook returning back to freshwater. In November, as the weather cools rapidly, you'll be able to enjoy well-fed bass preparing for the winter.
Don't forget that dependent on tides and closures, clamming is another wonderful activity included on free fishing day. It can be a real challenge, and you have to be ready to get a little dirty, but the satisfaction of digging your own limit of razor clams (and eating your delicious bounty) is unmatched.
If Dungeness Crab is what you seek, a general rule of thumb is that they are most abundantly caught in months that end in "r". Not sure how to crab, or don't know what constitutes a legal catch? There are amazing local experts ready to help at both Wheeler Marina and Kelly's Brighton Marina.
A great tool to get specific and time-sensitive information about the local conditions use is the ODFW fishing report. Guests staying on the Oregon Coast should review the Marine region. This report outlines everything from restrictions regarding equipment to daily fish limits, as well as the habits of fishing during this time. Another great option to stay up-to-date is the new MyODFW app for iOS and Android. You can access important dates and information, as well as register for yearly licenses if you "catch" a love for fishing, crabbing or clamming after your free fishing day experience. 
Stay With Starfish Vacation Rentals
Don't wait! Book your home with Starfish Vacation Rentals to enjoy your free fishing days in Oregon. Consider booking Starfish Cove! This three-story, two-bedroom, two-bathroom home is located in Rockaway Beach in a prime, ocean view location. You'll love admiring the gorgeous views from the master bedroom's balcony or relaxing in front of the gas fireplace. If you'd like to indulge in a gourmet meal, consider booking a private chef through our Guest Services. When you're ready to explore the town, you'll find that Starfish Cove is just a short walk from the best of Rockaway Beach. Enjoy seven miles of soft sand and wonderful shops and restaurants just two blocks from the property.
Browse through the rest of our properties and book today! We look forward to having you.
Are you looking for more great resources on Oregon Coast fishing? Check out our blog! Learn everything you need to know about steelhead fishing on the Oregon Coast!