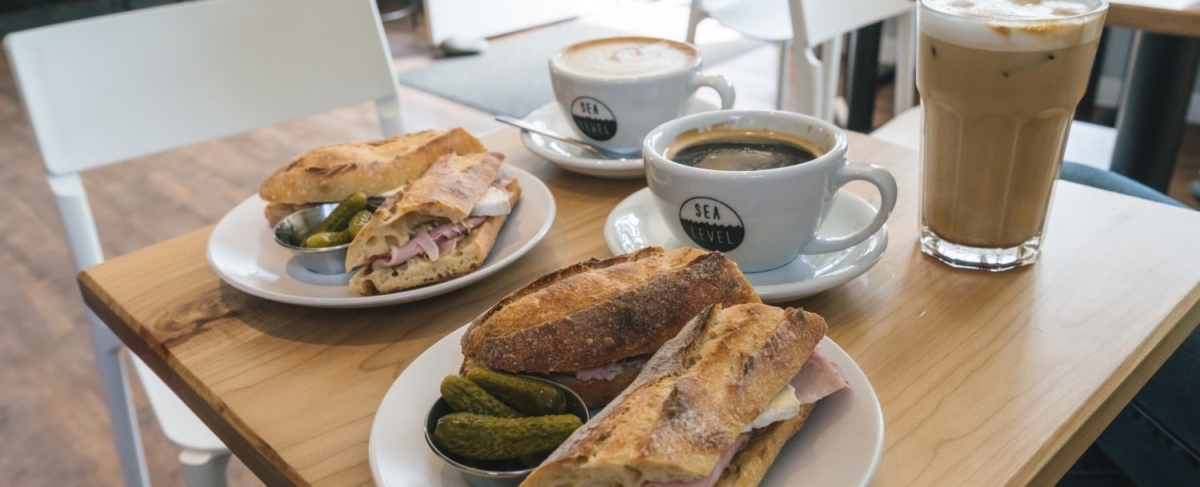 What's a better duo than coffee and a pastry? Perhaps, vacation and slow mornings? You can have it both ways when staying with Starfish Vacation Rentals in Manzanita and Cannon Beach. You cannot miss exploring Oregon's coffee culture during your trip, and we're here to give you insider information as to which is the best Cannon Beach bakery or coffee shop for you! 
Pastry Royalty: Cannon Beach Bakery
Cannon Beach Bakery is sure to please pastry fiends, with the largest selection of sweet and savory doughs in the area. They've been perfecting their recipes since 1936 when the bakery opened in Cannon Beach. Home of the original Haystack bread—a round, crusty loaf with different flavors—the bakery is also known for its win in the Sweetest Bakery in America contest. Besides Haystack bread, they offer 50+ goods daily: including almond bear claws, olive ciabatta, chocolate cream cheese muffins, and more. After you pick your pastry, grab a classic drip coffee, espresso, americano, or other classic coffee drink. Got a sweet tooth? Stay at Beach Blessing so you won't have to travel far in the morning, afternoon, or evening for your daily sugar fix. 
Gluten-Free Options Galore: Sea Level Bakery + Coffee 
Another great Cannon Beach bakery is Sea Level Bakery + Coffee. Find different coffees at the pour-over bar weekly. Pair them with daily made-from-scratch pastries like banana bread, kouign amanns, scones, and bread like baguettes, ciabatta, brioche, and more. Since savory items like pumpkin curry soup and ratatouille are available too, Sea Level is a great Cannon Beach cafe as well. Want to have a lunch date at Sea Level? Stay at the Nordic Star for a quick commute to silence your growling stomach. During your stay with us, we recommend that you have a beach picnic by stopping by Sea Level for some goodies on your way there. Munching on their jambon and brie sandwich makes for a delicious and delightful afternoon lounging on the sand.  
Cozy Ambiance and Community: Insomnia Roasters
Insomnia Roasters focuses on creating inviting spaces in each of their cafes, and their coffee and pastry selections are just as thoughtful. Signature drinks like eggnog lattes and baked goods like cinnamon rolls will brighten your mood in the already window-filled, airy space. Looking to read a book and escape from the world for a few hours? Stay at Red Door Cottage for optimum reading time. 
King of Coffee: Sleepy Monk Coffee Roasters 
Sleepy Monk Roaster's extensive roster of international, organic, and small-batch coffee provides dozens of options for your jolt of java juice. Ranging from French Roast Colombian, Dark Uganda, Gaelic Grounds, Bali Blue Moon, and so much more, you could live here for months and have not tried every roast. Don't forget to taste their signature whipped cream.  Plus, if you arrive early, you can get your hands on some gluten-free baked goods, and an Adirondack chair on the lawn to people-watch along Hemlock Street. Want to cross off a few of their bean blends off your list? Stay at Puffin Nest if you plan on visiting multiple times. 
Oregon Vacations 
After a luxurious night of sleep in our gorgeous properties, fuel up by visiting a Cannon Beach bakery and coffee shop before adventure-filled days in Oregon. With many outstanding Oregon coffee roasters and shops, you can eat, sleep, and repeat every day during your stay with Starfish Vacation Rentals. For more information about other things to do in Cannon Beach and Manzanita, and our accommodations at Starfish Vacation Rentals, visit our website or give us a call at 503-297-4090.