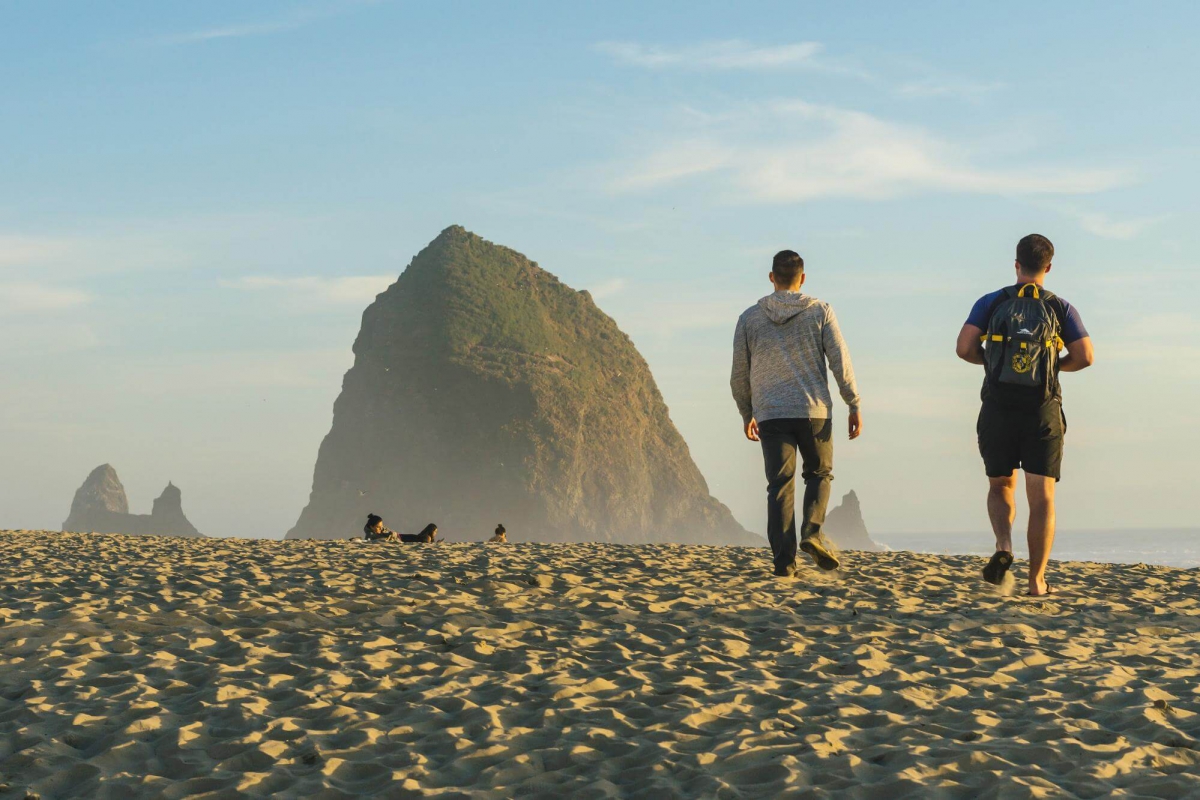 The Oregon Coast is an incredible place to visit. With the sandy beach, the ocean, and the surrounding rock formations, greenery, and nature, there is never a shortage of things to do or see on the water or on land. When you plan to visit the ocean, it's important to familiarize yourself with the potential dangers that come with swimming, surfing, or even walking on the beach, and to learn about preventative measures that you can take to ensure safety. The ocean, as beautiful as it may be, is also very powerful and should always be respected.
Cannon Beach Safety Tips: What You Need to Know
The beach can be a blast when visiting with friends and family, or even by yourself. You can collect seashells, try boogie boarding or kite surfing, build sandcastles, or even set yourself up the perfect beach picnic. Before you do any of these fun activities, make sure to read some beach safety tips. Make sure you read below before heading to Cannon Beach and testing out the waters!
5 Cannon Beach Safety Tips
Whether you're actually in the ocean or nearby, there are some things you should know about and be cautious of. A lot of rocks and logs can be slippery, and the tides can be overwhelming. Below you can find more safety information. 
Be careful on cliffs and rocks:

The ocean water can spray onto cliffs and rocks, making them extremely slippery and unsafe, so it's important to stay behind fences and wear the right shoes if you're planning to hike on these surfaces. Make sure to stay away from cliff edges as they usually won't support your weight, and never stand under overhanging cliffs. 
Stay off of rocks and jetties:

Despite being a great spot to get views of the ocean, rocks and jetties can be very dangerous. Barnacles live on rocks and can give you painful cuts if you slip and fall. Jetties are there to keep ships safe and are not meant for you to walk on. If big waves crash against rocks or jetties, you can be knocked into the ocean or into gaps between rocks. 
Beware of sneaker waves, incoming tides and rip currents:

Incoming tides can cause people to get trapped in caves or on rock formations. Starfish Vacation Rentals has an Oregon Coast

tide chart

on their website that you should review before going into the ocean. The North Oregon Coast's beautiful beaches are rarely staffed with lifeguards — this makes it extra important to be as safe and prepared as possible. It is estimated that 100 people are still killed by rip currents annually. If you are caught in a rip current, it's important not to fight it, and to swim parallel to the shore until you are outside of the rip current and then turn and swim and swim back to land at an angle. Sneaker waves are a very real, and very severe danger here on the coast. It is imperative to remember to never turn your back on the ocean because these powerful wave surges can come at any moment, whether the tide is high or low. 
Supervise children:

Make sure to keep an eye on your children and never let them play in the water unsupervised. You could even play close to the lifeguard station (if the beach has one) to make sure there's an extra set of eyes on your children. It is important to remember as well that our ocean, while beautiful and fun, is cold, and wetsuits are a necessity when in the water most of the time for adults and children alike. 
Don't climb on drifts logs:

Logs that are wet in the sand and water are very dangerous. The ocean can be strong enough to pick up a massive log that could potentially end up on top of you. If you see a log in the ocean or on the wet sand, make sure to stay off of it. 
Starfish Vacation Rentals is just a short drive from Cannon Beach's best attractions, and it's the perfect place to come back to after your day spent under the sun. Our inviting, luxury vacation homes and exceptional accommodations will make you feel right at home. In each of our rentals, you'll find updated furnishings, a fully stocked kitchen, and plenty of beach towels. We are more than excited to host you on your next vacation. We have vacation homes in Cannon Beach to Rockaway, while our office is located in Manzanita. Please give us a call at 503-297-4090.