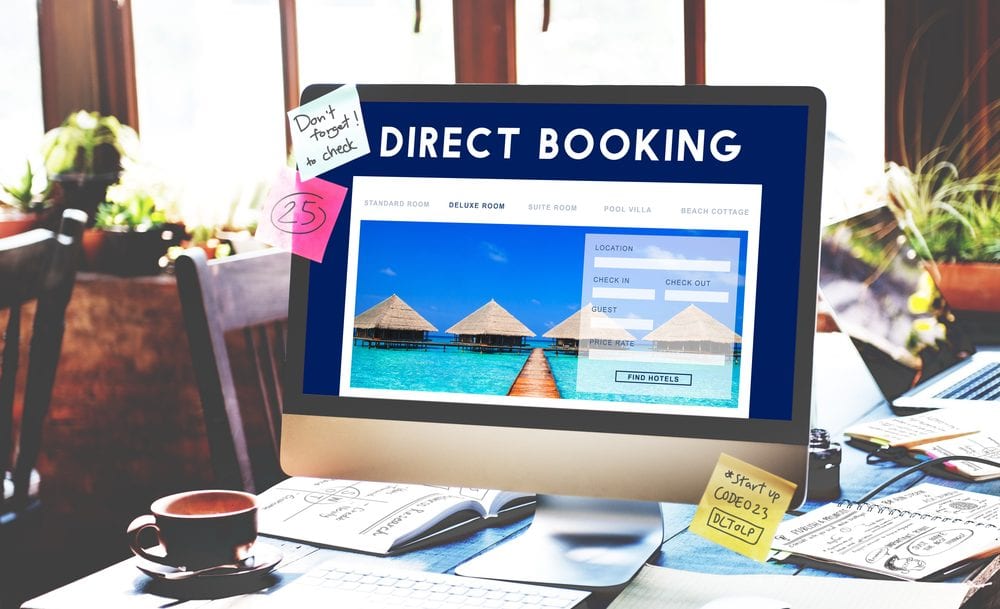 With #BookDirect Education Day approaching on February 3rd, we're gearing up to spread the word on how booking directly with a local property manager can save you time, money, and help you have the best experience on your next vacation.
If you're like most travelers, you start your search for a vacation rental by Googling vacation rentals in your desired destination.  Vrbo and Airbnb typically show up near the top of the search results. This is because they collect millions of dollars in service fees from travelers as well as advertiser fees that they then use to advertise prominently on Google and other search engines.  Contrary to what some travelers think, they do NOT manage or own any of the properties on their site. If you have a question about a specific home or location, you cannot contact one of these companies to get an answer, much less call them if you need assistance during your stay.
These listing sites can serve a useful purpose in your vacation rental search, but you need to know how to use them like the professionals do.   Read on to find out why you'll want to #bookdirect and one "breadcrumb" strategy to find your perfect vacation home!
Here's what you get when you #BookDirect:
Lower Fees
When you book through a third-party travel site, that low nightly rate doesn't show the hefty booking fees that most charge owners and renters. Companies like Airbnb, VRBO, Expedia, Booking.com and others tack on substantial fees for using their site – sometimes hundreds of dollars! But when you book directly with the property manager, you bypass those hidden booking fees. 
Exclusive Specials
Speaking of saving money – when you book direct, you could get special pricing that third-party websites don't offer. Most vacation rental management companies offer specials and discounts that you'll only find out about when you book direct, cutting your costs even more. They may even offer specials and discounts for local businesses and attractions and add-ons for concierge services, giving you more fun for less!  
More Choices
Many rental owners choose not to place all their properties on third-party sites because they're often charged high commission rates for bookings. In fact, the best rentals in an area book easily, so they aren't usually listed on travel sites at all. When you book directly with local property managers, you'll gain access to more (and better) homes and rentals to choose from. 
Local Knowledge
When you book directly with a local owner or vacation rental manager, you're working with people who live, work, and play in the area, giving them intimate knowledge of your destination. They can provide suggestions on local attractions, places to eat and drink, where to buy groceries, the best routes to avoid traffic, and more. 
Easy Communication
When you book direct, you get immediate contact with your rental management company. That means questions or concerns about your stay can be asked – and answered – quicker than with large, intermediary travel sites. Sites like VRBO and Airbnb only rent you the accommodations. They aren't there to help you should an issue arise with your rental. Having a local property manager means that if something does go wrong (don't worry, it's rare), they'll be close at hand to make it right. When you book direct, your rental management company can also help with special needs or requests to make your trip easier. 
How to Find the Best Local Management Companies
Sometimes finding the best local vacation rental companies isn't easy since they aren't able to invest millions in Google advertising like the big corporate listing sites do.  If you are unfamiliar with your destination, check to see if there is a chamber of commerce site that highlights the local businesses.  Often that is a great first stop since you can learn a lot about the area.
Another way to find local rental companies is by first browsing Airbnb and Vrbo.  You may find a property or two that you are interested in.  As you look through the photos and in the description, you'll usually find a "breadcrumb" that will name the property manager.  Then Google their name and contact them directly on their website.  You can ask questions about the property, the area, discuss your specific needs, and learn about the best way to enjoy the area.  Now you are on your way to a better vacation experience!
A Better Experience
Booking direct means a better overall experience. Local vacation rental management companies are more invested in your vacation and satisfaction, so they'll go the extra mile to make sure both are five-star. They can easily match your vacation style to properties and areas to give you the best possible experience for the best possible price.
Planning a vacation in Cannon Beach, Arch Cape, Manzanita, or Rockaway Beach? Look no further than our beautiful properties for the best selection of luxury homes. Or if you're planning a vacation elsewhere in the Pacific Northwest, don't take the long way around – book your trip directly with Northwest Stays and our vacation rental partners! There are a variety of rentals and each provides book-direct options. It's the easiest way to ensure a stress-free, affordable vacation to one of the most beautiful areas in the country.