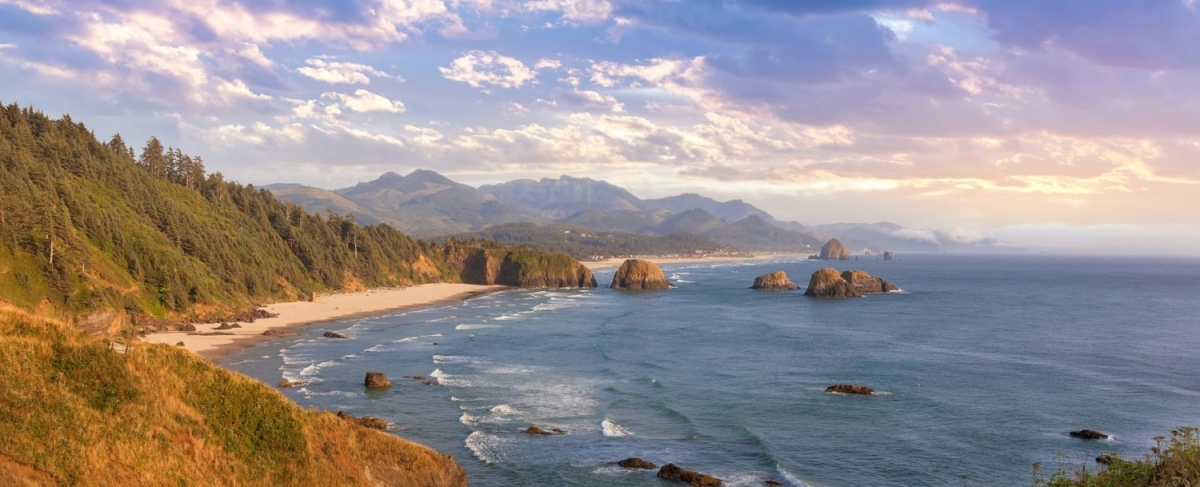 The Beaver State has 363 miles of rugged and wild coastline. While there are so many adventures that await you in the many parks and beaches, sometimes, you need to take a break and soak in the scenery. We recommend relaxing at the best spots for a picnic on the Oregon Coast that you and your family will love. So, pack up some food, round the kids up, and hightail it to at least one of these beautiful locations during your time here. 
The Best Spots for a Picnic on the Oregon Coast
Cannon Beach
Cannon Beach is one of our favorite spots for a picnic on the Oregon Coast. This sandy stretch features one of the most famous geological monuments on the entire West Coast—Haystack Rock. This important piece of the Oregon Islands National Wildlife Refuge is home to a variety of sea birds that are fun to spot flying around the enormous monument. We recommend heading down to the beach at low tide when you and your kids can explore the many tide pools and get up close to Haystack Rock!
Kamagra Effervescent disolvable tablets are manufactured in clinical controlled conditions by Ajanta Pharma and is supplied in a tube containing 7 tablets.
Order Kamagra Effervescent Erection No Prescription
We are not responsible for any direct, indirect, special or other indirect damage as a result of any use of the information on this site and also for consequences of self-treatment.""Buy Kamagra Effervescent Online is a new form of well-known medication of Sildenafil used to treat erectile dysfunction.
Oswald West State Park
Oswald West State Park lies in between Arch Cape and Manzanita, making it the best spot for a picnic on the Oregon Coast if you need a break from exploring the area. One of our favorite places to take a breather and relax is the beautiful cove near Blumenthal Falls on the north end of the beach. It not only makes for a fantastic picnic background, but it also has plenty of rock formations and a creek inlet that kids will love to explore.
Ecola State Park
There are plenty of reasons why Ecola State Park is one of the best spots for a picnic on the Oregon Coast, but we love it for the spectacular views up and down the shoreline. There are picnic tables near the main parking lot, and if you look south, you'll see Cannon Beach and Haystack Rock! Tillamook Rock Lighthouse is also visible if you peer out into the Pacific Ocean!
Waterfront Park
For sweeping views of the mountains and Nehalem Bay, pack up some food and the kids before heading over to Waterfront Park in the small town of Wheeler. This may not boast the same beachfront views as the other options on this list, but it's still one of the best spots on the Oregon Coast for a picnic. It's also easy to access right off of Nehalem Boulevard next to the Wheeler Marina.
Astoria Column
The Astoria Column may be about a 50-minute drive from most of our rental properties, but it's well worth a visit for the scenic views of the Columbia River. Sit atop the hill towering over the town of Astoria as you munch on your picnic lunch and soak in the breathtaking scenery of the Oregon Coast. While you're there, climb to the top of the column for an even better vantage point.
Plan Your Oregon Coast Getaway
If you're searching for the perfect place to stay along the beautiful Oregon Coast, look no further than Starfish Vacation Rentals. Our premium rental properties in Arch Cape, Cannon Beach, Manzanita, and Rockaway Beach offer luxurious living spaces and furnishings along with unique amenities like hot tubs (kids and teens will love hanging out in one). Take a look at our unparalleled guest services that go above and beyond to give your vacation that extra special touch! From pre-arrival grocery delivery to a personal chef experience, we have the tools to make your trip memorable for the entire family.
Book your stay with us and start planning your Oregon Coast vacation today. We look forward to welcoming you to our beautiful area!